Taylor Armstrong In Tears As Camille Grammer Confronts Her On Physical Abuse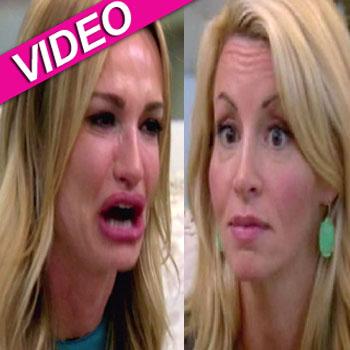 It seems each week becomes even more drama packed on The Real Housewives of Beverly Hills.
The most recent episode got particularly ugly during a tense tearful 'marriage intervention' staged by the cast members to help Taylor Armstrong.
As RadarOnline.com previously reported, after the suicide of her husband Russell Armstrong, Taylor went public with her claims of physical abuse at his hands, releasing shocking photos showing a badly bruised eye socket and cut near her eyebrow.
Article continues below advertisement
On Monday night's episode, which was filmed before Russell's suicide in August, Camille Grammer finally confronted Taylor about her abusive relationship.
"We've been protective of you... Because we don't say that he hit you, or he broke your jaw, or he beat you up. We don't say that, but now we've said it," she said.
The revelation came after a nasty spat between Taylor and Lisa Vanderpump.
After confronting Lisa over her past comment, "I am not your friend" teary Taylor shouted at her castmate: "I have bent over backwards since the day I met you to be kind to you. And you have treated me so poorly that it is embarrassing."
Despite Lisa's attempt at an explanation and apology, Taylor continued: "I have never in my life tried to make somebody be my friend more than I've tried for you. And I feel like a fool."
Then through her tears, an angry Taylor beseeched: "If you can't be my friend, don't be my enemy."
You can watch the drama packed confrontation here on RadarOnline.com.
RELATED STORIES:
Taylor Armstrong Will NOT Be Going On Dancing With The Stars