Transgender Fake Butt Implant Doctor: Dozens More Victims Come Forward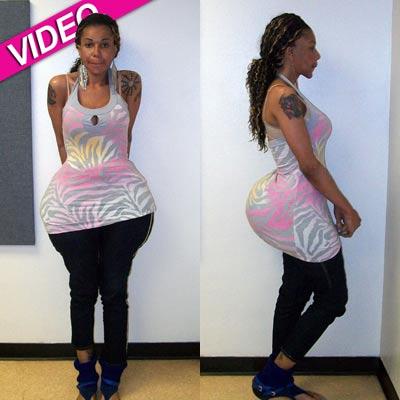 Dozens more victims have come forward claiming they were left disfigured after botched plastic surgery procedures at the hands of a transgender alleged fake doctor.
As RadarOnline.com previously reported, Oneal Ron Morris, 30, who was born a man but is now living as a woman, was arrested for practicing medicine without a license with serious bodily injury after injecting a bizarre cocktail of cement, flat-tire sealant and mineral oil into the buttocks of a patient desperate for a bigger behind.
Article continues below advertisement
Following the initial report, another "patient" came forward claiming her face is mangled after Morris shot cement and tire sealant into her face. Rajee Narinesingh said she learned of the alleged faux doc's service via the transgendered circuit, and was compelled to take a chance as she didn't have enough cash for a licensed doctor, but desperately wanted some tweaks to her appearance.
"You know how a boil feels?" the 48-year-old transgender asked, when describing her painful experience to NBC.
"It felt like there was a mass that wanted to bust out of my face, but it actually didn't. It just kept getting bigger and bigger and bigger."
And, now, up to 30 more victims have come forward claiming Morris, who goes by the name "The Duchess" carried out potentially deadly procedures on them, including closing wounds with Super Glue.
As RadarOnline.com previously reported, Morris and her alleged accomplice, Corey Eubanks, 40, have both denied the charges against them.
Article continues below advertisement
Morris spoke for the first time to Entertainment Tonight in December, where she adamantly declared her innocence. "They didn't catch me doing anything so it's all just allegations," she told the CBS entertainment show.
"I'm innocent, I really am innocent, or whatever," she claimed brashly.
The new victims claim Morris carried out procedures such as butt and chweewk implants on them and that they suffered severe and sometimes life-threatening complications. Thankfully, so far there have been no reports of fatalities.
Shaquanda Brown, of North Miami, told the Miami Herald that she had to be hospitalized for over a month after one such procedure and still continues to suffer sickness.
She claims she was quoted a price of $1,000 by Eubanks but negotiated the price down to $700 for a series of 12 injections. She says she underwent her first treatment at Eubank's house and that she saw a syringe, a black hose and a tube of Super Glue by the ,massage table upon which she was instructed to lay.
Article continues below advertisement
She says she recalls "The Duchess" Injecting her and then sealing the wound with Super Glue — she was admitted to the hospital shortly after to recover from multiple abscesses a staph infection.
Despite the physical evidence literally being on the faces and behinds of her victims, Morris said she had nothing to did with their shocking transformations, and even admits that the back-room procedures sounds like a crazy thing to do.
"It sounds bizarre but I feel like how could America even think that a person could put cement in somebody's bottom," she told Entertainment Tonight.
Boasting a giant butt that she reportedly enhanced with her own home-made mixture, Morris went on to say how she is the one that the public should be feeling sorry for.
"These allegations...I didn't do any of these things to these people. Just know these people who are lying are ruining my life, that's all I have to say," she claimed.
Article continues below advertisement
"They keep on lying but the truth will prevail, and that's why we have courts and stuff like that.
"If anyone is the victim, it's definitely me."
Meanwhile, William Bamford, spokesman for the Miami Gardens Police Department, told the Associated Foreign Press that they are continuing to build evidence of more alleged cases.
"We have continued to receive calls from several victims... many of them transsexuals, but for now there are two cases confirmed," he said.
As RadarOnline.com previously reported, a top plastic surgeon says that the "procedures" are not surprisingly, highly dangerous, and could have killed the patients.
"I've never heard of anyone using something like this, but I guess you can go to any hardware store and inject something into someone," Long Beach, California-based Dr. Marcel Daniels said. "It's a horrible idea."
Dr. Daniels revealed how the bogus shots do not only have extreme medical side affects but could even lead to death for the unsuspecting victims who were looking for a quick fix.
Article continues below advertisement
"This is a totally unlicensed, untrained individual," he revealed. "She could inject it into the wrong blood vessel and cause an embolism, which can kill."
As the illegal medical procedure wasn't carried out in a sterile environment, there was also the risk of bacterial infection.
"There is a high risk of tissues death or multiple abscesses forming," explained the surgeon, who went on to add, "Such toxins can cause an inflammatory response that creates incredibly painful nodules that can burst through the skin, cause open wounds and lead to even more scaring and disfigurement."
Dr. Daniels said that the sad case is yet another cautionary tale about trusting someone to do something to your body before you've done a little research. "People are too desperate to alter their appearance and it overwhelms their sense of caution," he told RadarOnline.com.
"Obviously, the price was appealing for the victims, but sometimes you get what you pay for. Shopping for bargains are not a good idea when it comes to surgery," Dr. Daniels cautioned.