Fake Doctor Arrested For Injecting Cement And 'Fix A Flat' Into Woman's Buttocks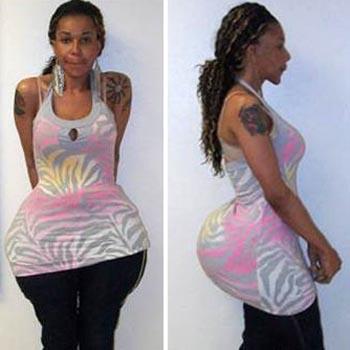 A transgender woman has been arrested after posing as a doctor and injecting a bizarre cocktail of cement, flat-tire sealant and mineral oil into the buttocks of a patient desperate for a bigger behind, RadarOnline.com has learned.
Oneal Ron Morris of Miami, Florida was arrested on Friday and charged with practicing medicine without a license and causing serious bodily harm after her victim suffered from bad side affects from being pumped with the toxic injections, CBSNews.com reported.
Article continues below advertisement
Born a man but living as a woman, 30-year-old Morris charged the unidentified woman $700 for the series of butt-enhancing injections in May 2010.
According to Miami Gardens police, when she complained that the shots were painful, the fake physician told her victim: "Oh don't worry, you'll be fine. We just keep injecting you with the stuff and it all works itself out." She then reportedly sealed the incision with super glue.
The poor woman was overcome with pain but too embarrassed to tell a doctor what had happened despite multiple trips to the hospital.
Bottom-heavy Morris is thought to have given herself the same procedure and police suspect she may have injected other victims who are too ashamed to come forward.
RELATED STORIES:
Lisa Vanderpump Says All The Housewives Have Had Too Much Plastic Surgery!
Had A Little Nip Tuck? AnnaLynne McCord Shows Off Suspiciously Bigger Bust