Butt Implant Fake Doctor Victim Reveals She Had 'A Mass That Wanted To Bust Out Of My Face'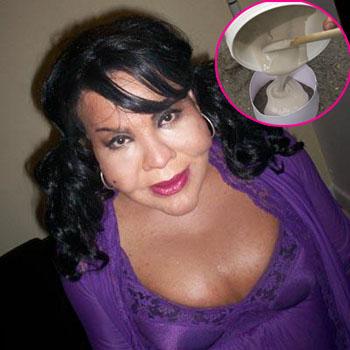 By Debbie Emery - RadarOnline.com Reporter
The third victim to receive toxic cement injections from a transgender fake doctor has revealed the extent of her dangerous disfigurement, and RadarOnline.com has video and photos of her startling transformation.
Rajee Narinesingh, also a man living as a woman, had what she thought was silicone pumped into her cheeks, lips and chin by Oneal Ron Morris to make her look more feminine but the distorted results were a far cry from the face of her dreams, NBCMiami.com reported.
Article continues below advertisement
As RadarOnline.com previously reported, the victim first got the cement and tire sealant shots in 2006, and a year later her face blew up with an agonizing infection.
"You know how a boil feels?" the 48-year-old transgender asked, when describing her painful experience to NBC.
"It felt like there was a mass that wanted to bust out of my face, but it actually didn't. It just kept getting bigger and bigger and bigger."
Narinesingh, of Hollywood, Florida, said she learned of the faux doc's service via the transgendered circuit, and was compelled to take a chance as she didn't have enough cash for a licensed doctor, but desperately wanted some tweaks to her appearance.
After her attempts to cut costs backfired, she has now been forced to splash out on a real surgeon to make up for the illegal backroom procedure. A bona fide doctor cut out the hard lumps of cement that bulged under her skin.
Article continues below advertisement
The patient said she was also treated at the Miami Gardens home of Morris' alleged accomplice, Corey Eubank.
Both suspects were arrested last week after a woman claimed she nearly died after Morris injected her buttocks with a mixture of cement, mineral oil, and a flat tire sealant.
On Wednesday, Eubank's attorney said that she was not involved in the dangerous injections and revealed that his client is pleading not guilty. Morris is also denying the allegations.
Despite their pleas of innocence, police believe there are more victims of the fake doctors and are encouraging them to come forward, even if they are scared or embarrassed.
"As a transgendered person, I was afraid to because the person being charged is transgendered and I am transgendered," revealed Narinesingh. "So I thought my story would not be taken as credible as if it were coming from a biological woman."