Joan Rivers Gets High On New WE Show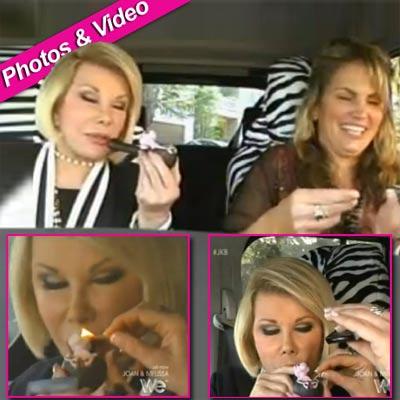 Joan Rivers has finally taken the high road. Literally.
The 78-year-old funny lady made out like Cheech & Chong on her new WE reality show Joan & Melissa: Joan Knows Best Tuesday, smoking marijuana in public, and we've got the clip for you on RadarOnline.com.
In the overly-staged sequence, Rivers was complaining about stress when a friend (in need) named Lynne stepped in, and the pair went to a clinic to acquire the legal pot. They then traveled to a dead end street, where the impromptu Bob Marley tribute broke out.
Article continues below advertisement
"I'm starving, I want to eat right now, lets go!" a supposedly imbibed Joan told Lynne, who (was driving and) got so stoned they called up Joan's daughter Melissa to drive them home.
"My 78-year-old mother has now become 17, and I have become a soccer mom yelling at her teenage kid!" Melissa said.
Watch the video on RadarOnline.com
Joan tweeted about her medicinal misadventures Tuesday, writing: "California is insane! It's illegal to smoke a cigarette in public but if you get a note from your doctor you can smoke pot! HUH? #JKB."
Joan & Melissa: Joan Knows Best airs on WE Tuesdays at 9/8c.