Exclusive
Madonna's Homeless Brother Was At The Super Bowl - In The Parking Lot!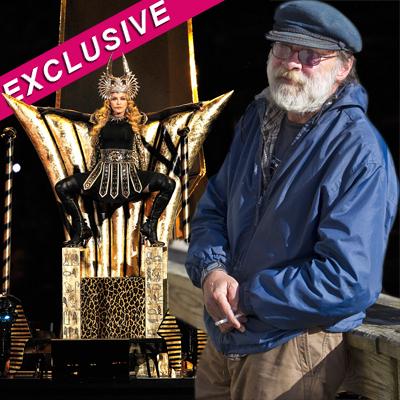 Article continues below advertisement
Local rock radio station KLT put together a group labeled 'The Misfits' in which the station doled out cash prizes in return for accomplishing pre-set challenges, such as a photo in front of the stadium, getting their banner on the pre-game show on NBC and snapping a photo in front of the Indiana state sign.
The gang traveled on their journey in a shuttle labeled the Pigeon River Pub and Anthony's total payout when he got back to Michigan was $183.75.
Madonna and Anthony have been estranged for years, due largely to his struggle with drug and alcohol addiction.
"I'm proud of my sister. But it's been a burden, because I can't be me; I have to be related to a celebrity. People have their ideas and expectations. My sister's a multimillionaire, but she earned it. I have to give her credit for that," Anthony said in an interview last year.
"But you'd think there'd be some more family loyalty, and that's not the case. Just to communicate would be nice."
Article continues below advertisement
Madonna On Lady Gaga's Born This Way: When I Heard It The First Time, I Said, 'That Sounds Very Familiar