Madonna's Brother Remains Homeless & Destitute Over The Holidays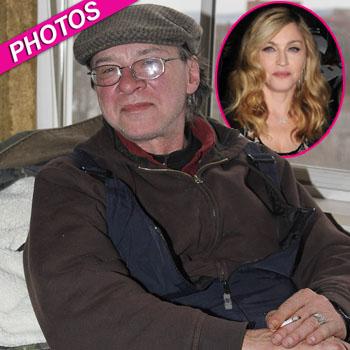 Madonna's homeless brother Anthony Ciccone spent Christmas alone and without a care from his famous sister.
The 55-year-old spent the holiday season sleeping on the rough streets of Traverse City, Michigan in sub-zero conditions -- with no invitation from the Material Girl to spend it with her and her family.
In photographs obtained by RadarOnline.com, Anthony looks haggard and his gummy grin reveals his missing teeth as his lifestyle catches up with him.
Article continues below advertisement
Despite having a multi-millionairess for a sister, and his father and stepmother owning a vineyard 20 miles away from where he sleeps, Anthony wears layers of filthy clothes and wanders the streets looking for shelter and warmth - oftentimes sleeping under bridges or doorways.
"If I show up on their doorstep they will tolerate me for a day or two," Anthony said mournfully.
Anthony scraped together some money for lunch at a burger joint with a friend where he ordered onion rings, a beer and Jack Daniels on the rocks.