Madonna: 'Straight Men Did Not Find Me Attractive…They Were Scared Of Me'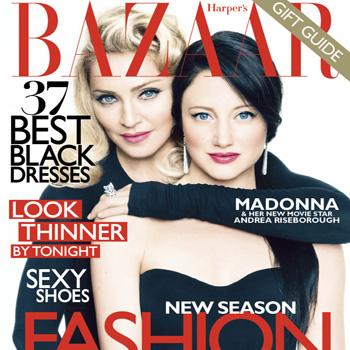 Singer-turned-actress-turned-director Madonna is featured on the December cover of Harper's BAZAAR Magazine alongside the star of her upcoming film W.E. Andrea Riseborough, and leave it to the Material Girl to make some shocking and controversial statements!
"I think that the world is not comfortable with female sexuality," Madonna says in the interview. "It's always coming from a male point of view, and a woman is being objectified by a man -- and even women are comfortable with that. But when a woman does it, ironically, women are uncomfortable with it. I think a lot of that has to do with conditioning."
Article continues below advertisement
So, how did Madonna escape that "conditioning"?
"The fact that I didn't have a mother helped me in some respect, and that I didn't have a female role model. I was always very aware of sexual politics, growing up in a Catholic-Italian family in the Midwest, seeing that my brothers could do what they wanted but the girls were always told that they needed to dress a certain way, act a certain way."
In the revealing interview, the 53-year-old also talks about being tormented as a child for doing the opposite of what the other girls were doing.