Madonna Shows Off Her Cheeky And 'Ironic' Side In Model Search Campaign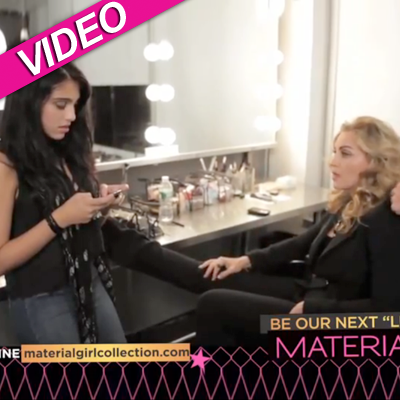 RadarOnline.com Style & Beauty Editor
Do you have what it takes to be the next Material Girl model?
Madonna and Lola are searching for the next Lucky Stars to be featured in an upcoming Material Girl campaign ­and RadarOnline.com has all the details, as well as a hilariously "ironic" video of the Material Girl herself dishing on what they are looking for.
"When I started off and people called me the Material Girl it was meant to be ironic. Not to be meant to be taken seriously. I can't live that name down now," Madonna bemoans in the spoof-like 4 minute video.
Article continues below advertisement
"People think I am a superficial person. And I am not. I love horses. I love flowers. I don't love hydrangeas. I love nature. Trees. Animals. I don't love all animals."
During the hilariously candid clip, the mother and daughter duo go back and forth discussing the modeling competition, making it quite clear that they have fun and laid back relationship. Madonna even accuses her spawn of being a "looksist" and an "ageist."
The mother and daughter duo, along with Macy's have announced the Material Girl "Lucky Stars" Model Search!
A celebrity driven panel of judges, led by Kelly Osbourne, will search the country for the faces of the brand's Spring 2012 campaign and will be holding casting calls at five Macy's flagship stores in the United States, launching on November 2 at Macy's Herald Square in New York.
They will then head to Miami, Chicago, San Francisco and Los Angeles, before culminating on November 21 online.
The 10 finalists with the highest votes will be flown out to New York City, where Madonna and Lola will choose the new face of Material Girl's Spring 2012 campaign. Winners will also receive a $5,000 cash prize.