Who's The Original Material Girl? Madonna Fights Over Clothing Line Name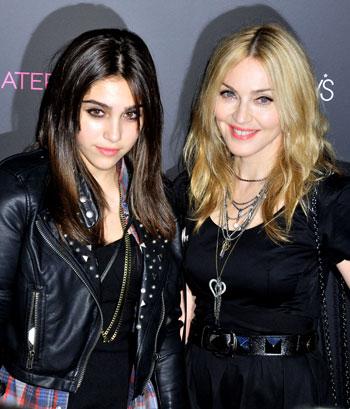 When you think of Material Girl you usually think of Madonna's smash hit song from 1985. Then, maybe her clothing line that she launched last year, under the same name, with her daughter Lourdes.
But now, another clothing company is trying to take away Madonna's right to name her line after her hit song — claiming THEY are the original Material Girl.
Madonna's company MG Icon is being sued by L.A. Triumph Inc. who claim that her fashion line has infringed on their trademark.
Article continues below advertisement
L.A. Triumph say they have been selling their juniors clothing line called Material Girl for the past 14 years.
They retail in stores like Nordstrom and Ross Dress For Less and they maintain that they hold the trademark rights from their first usage in 1997.
The suit was filed a year ago but on Wednesday U.S. District Court Judge S. James Otero rejected the claim from Madonna's company that she had senior use of the Material Girl trademark because of her 1980's hit song. And, the judge turned down a request from the 53-year-old icon to throw out the case.
MG Icon is owned by the mother-of-four, her manager Guy Oseary and Iconix Brand Group Inc.
The trial will start in mid-October in Los Angeles and L.A. Triumph are seeking to have MG Icon cease their usage of the name and want unspecified monetary damages.
Madonna is not having a good week -- her new film, W.E. that she wrote and directed, has been mauled by critics at this year's Venice Film Festival.
MORE ON:
Celebrity Justice
Article continues below advertisement
The movie is about the real-life Royal scandal that was caused by divorced American socialite Wallis Simpson marrying England's Edward III which led to him to abdicate from the British throne.
Their story is interwoven with a tale of a modern married Manhattan woman, played by Abbie Cornish who has a growing attraction to a Russian security guard.
RELATED STORIES:
Kelly Osbourne On Amy Winehouse, Madonna, & Kate Middleton's Fashion Faux Pax