Kelly Osbourne On Amy Winehouse, Madonna, & Kate Middleton's Fashion Faux Pax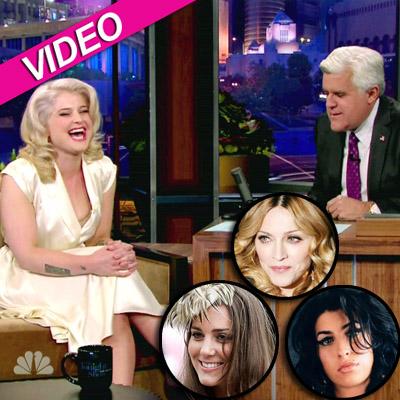 By Adam S. Levy - RadarOnline.com Staff Writer
Kelly Osbourne was clearly still reeling in pain from the death of her good friend Amy Winehouse in her appearance on Wednesday's edition of The Tonight Show.
Toward the end of her segment, host Jay Leno, in his best somber tone, told Kelly, "I want to thank you for coming here tonight, I know this has been a rough week for you ... you lost one of your best friends" in reference to the Rehab singer, who died last month at 27.
Article continues below advertisement
"I've not really left my apartment much since I've been back from her funeral in London last week ... but it's been good to leave it today, cause my bloody A/C is broken," said Osbourne, who wore Winehouse's trademark beehive hairdo to her funeral.
"Cause she was a great friend to you, right?" Leno asked.
"I don't really want to go into it, cause there will be floods of tears on the couch," Osbourne said.
Winehouse wasn't the only celeb mentioned in the discussion, as Leno also asked Kelly what she thought of the recent fashion "faux pax" the Duchess of Cambridge Kate Middleton (allegedly) committed when she wore the same outfit twice.
"Well, I'm sorry, but if I had that job, I would only wear it once," Osbourne, the star of E!'s Fashion Police, told Leno. "If I am going to be the future bloody Queen of England, I'm going to wear that dress once, because I'm giving up the rest of my life, all of my privacy, at least I can get a new dress every day."
Article continues below advertisement
Osbourne, 26, commented on a bond she's formed working on the Material Girl fashion line with Madonna's 14-year-old daughter, Lourdes Leon.
"I will say I've found a great friend in Lourdes," Osborne said. "I think that she's unbelievably intelligent, and working with her, and seeing how smart someone so young kind of puts you to shame when you're not that smart."
The only diva of interest Kelly didn't talk about was Christina Aguilera, as she recently made waves by calling The Voice star "a fat b***h" and a "c**t" on her E! show, Fashion Police, which airs Fridays at 10:30/9:30c.