Exclusive
Amy Winehouse And Her Beehive - How She Changed Hair History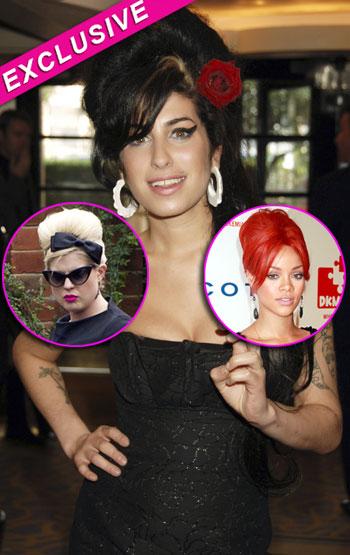 By Leah Ornstein - RadarOnline.com Style & Beauty Editor
Kelly Osbourne attended Amy Winehouse's funeral in London on Tuesday, and honored her late pal by sporting her signature hairdo - the beehive.
In memory of the soulful singer, RadarOnline.com is bringing you the back story of the famous updo, celebrities who have rocked it and how, according to a top hairstylist, Amy spawned an international resurgence of the classic coif.
Article continues below advertisement
Since its inception over fifty years ago, the over-the-top hairstyle has been rocked by everyone from Audrey Hepburn in Breakfast at Tiffany's, to red carpet bombshells like Jennifer Lopez, Drew Barrymore, Rihanna, Jessica Simpson and Christina Hendricks, and even to cartoon characters like Marge Simpson and Wilma Flintstone.
The beehive dates back to 1960, created by Illinois hairdresser Margaret Vinci Heldt, who was asked by the editors of Modern Beauty Salon magazine to design a hairstyle that would reflect the coming decade.
"Who knew what a phenomenon it would become?" Heldt told Trib Local, a local Chicago website last year. "It was worn by millions of women."
It was Amy Winehouse who brought the famous do back with a bang.
"It definitely made her standout from everyone else," celebrity hairstylist Sean James tells RadarOnline.com exclusively.
"It was during a time that music went hand in hand with the punk rock 1960's Dusty Springfield look. Adele and Duffy were also sporting similar styles at the time, but Winehouse took it to the extreme."
Article continues below advertisement
While other people would reserve the complicated updo for the red carpet, Winehouse made it her day-to-day look.
"She was more committed to the look than anyone else and would rock it from day-to-night with cutoffs and wifebeater tank tops. She was living the sixties rock chick to the extreme.," James says.
After Winehouse topped the charts with Back to Black, the fashion industry took note.
"Winehouse spawned an international resurgence of the beehive," James adds. "Every designer was asking me to do the Amy Winehouse hair for their runway shows and editorial spreads."