Amy Winehouse's Mom & Dad Show Up At Her Home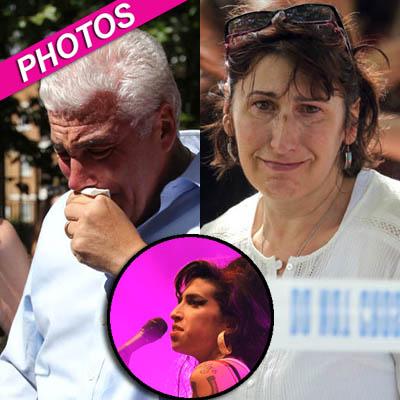 Mitch and Janis Winehouse, the parents of late singer Amy Winehouse, were distraught as they arrived at her London home early Monday, days after her death at just 27-years-old.
"You've got to do what you've got to do," Mitch Winehouse told reporters outside the north London home. "I know a lot of you, we've been together for five, six years, I know you've got a job to do. I'm glad you're all here anyway.
Article continues below advertisement
"And you people in the street," he told her fans, "I can't tell you what this means to us. It really is making this a lot easier for us. We're devastated and I'm speechless, but thanks for coming."
Mother Janis said she's known it'd be "only a matter of time" before her daughter's raucous lifestyle caught up with her, the Mirror reported Sunday.
The family had previously issued a statement saying: "Our family has been left bereft by the loss of Amy, a wonderful daughter, sister, niece. She leaves a gaping hole in our lives. We are coming together to remember her and we would appreciate some privacy and space at this terrible time."
The Rehab singer was found dead at her London home by pal Tyler James Saturday afternoon at 27, marking the end of her long battle with drugs and alcohol. She'd entered rehabilitation facilities on multiple occasions, as recently as this past May.
Police Sunday said her death remained "unexplained," adding that speculation about a drug overdose was "inappropriate."
Her autopsy is slated for Monday afternoon, authorities said.