Amy Winehouse's Family Mourns At Her North London Home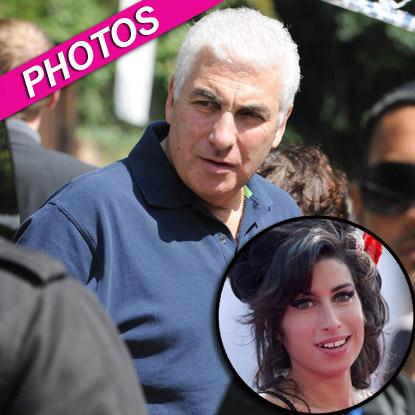 By Adam S. Levy - RadarOnline.com Staff Writer
Amy Winehouse's father Mitch was seen observing the Jewish mourning tradition of Shiva Thursday at the late Rehab singer's north London home, where she was found dead Saturday morning at the age of 27.
Mitch went outside to greet the people, and take in the numerous tributes and memorials fans left in memory of his beloved daughter.
Meanwhile, an unnamed source close to the singer's family told The Sun they believe Winehouse died as a result of quitting drinking cold turkey, as her doctors told her that with her massive habit, she'd have to taper down.
Article continues below advertisement
"Abstinence gave her body such a fright they thought it was eventually the cause of her death," the source told the paper.
Winehouse's funeral was held Tuesday, followed by a cremation service. In his eulogy, Mitch said he's planning on opening a foundation "to help those struggling with substance abuse" in honoring his late daughter's memory.
The family insider told the Sun more details of Mitch's send-off to his little girl, in which he shot down reports she'd been on a massive drug and alcohol binge that triggered her premature passing.
"He wanted everyone to know that he, her boyfriend and her manager believed it was actually the complete opposite," the source said. "He said doctors had told Amy to gradually reduce her intake of alcohol and to avoid binging at all costs.
"Amy told him she couldn't do that. It was all or nothing and she gave up completely.
"Mitch said the shock of giving up, after everything she had been through over a bad few years, was just too much for her to take."
Article continues below advertisement
Winehouse's autopsy was conducted Monday afternoon, and toxicology results will be available in 2-to-4 weeks. Police called her death "unexplained,"adding that speculation about a drug overdose is "inappropriate" in light of the fact that no drugs were found at her house upon inspection.
RELATED STORIES:
Amy Winehouse's Jailed Ex-Husband Cut Out Of Her $16 Million Fortune