Exclusive
Shamed Designer John Galliano Blames Alleged Anti-Semitic Rants On Drugs & Alcohol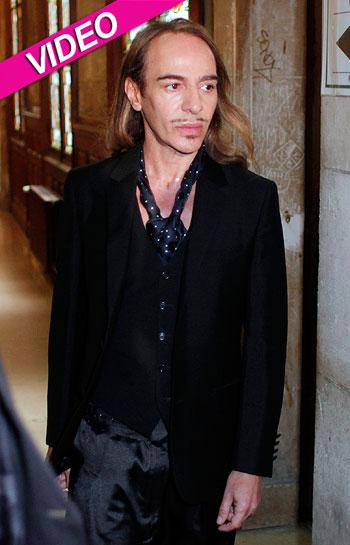 By Cliff Renfrew - RadarOnline.com Staff Reporter
Shamed fashion designer John Galliano told a court Wednesday that drugs and alcohol were to blame for his now infamous alleged anti-Semitic rants.
French Prosecutors claim the former Dior head creative designer hurled racial slurs at customers in a Paris café on several occasions.
Galliano, 50, claimed he had no recollections of events and denied being a racist – if convicted he faces six months in jail plus a fine of $30,000.
Article continues below advertisement
The designer, who is a favorite of Madonna and Kate Moss, is charged with "public insults based on origin, religious affiliation, race or ethnicity".
The trial in Paris focuses on two alleged incidents in October and February.
The court saw video from a third incident recorded on a cell phone in which Galliano was shown saying to two women in a café: "I love Hitler", and telling them that their parents could have been gassed by the Nazis.
But after watching the footage in court he denied he was racist or anti-Semitic.
He told the court: "I do not have these views and I have never held them.
"All my life I have fought against prejudice, intolerance and discrimination, having been subjected to it myself," he said.
Galliano revealed that he began using alcohol and drugs in 2007 following the death of a close friend, and that their use had helped him to cope with the pressures of his job as creative director at Dior.
Article continues below advertisement
"After every creative high, I would crash and the alcohol helped me," he said.
He had been in "complete denial" about his addictions when he was arrested - he said this is why he did not tell the police at the time.
Earlier, Mr Galliano's defence lawyer Aurelian Hamelle, told the court his alcoholic and "pathological state" could be proved by medical testimony.
Galliano has previously repeatedly apologised "unreservedly" for his behavior and has sought treatment for his addictions.
Geraldine Bloch, a museum curator, is suing Mr Galliano over what she said was a tirade of anti-Semitic abuse that lasted 45 minutes.
She told the court he had mocked her appearance and clothing during the February incident, and that the word "Jewish" was "one of the most recurrent".
Her lawyer, Yves Beddouk, claimed Bloch did not know who the designer was and that he had "assaulted her, not only as a woman, by criticizing the texture of her hair, by criticizing her thighs, and by criticizing the way she was dressed".