Exclusive
WORLD EXCLUSIVE AUDIO: Mel Gibson's Explosive Racist Rant -- Listen To It Here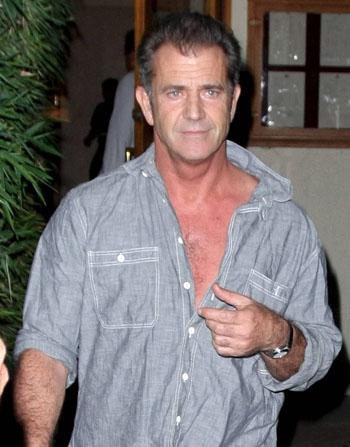 WARNING: This audio may not be reproduced or republished.
Mel Gibson was caught on tape spewing a vile, hate-filled racist rant and RadarOnline.com has exclusively obtained the audio proof.
We broke the story that Mel told Oksana Grigorieva, the mother of his love child, "You're an embarrassment to me. You look like a f***ing bitch in heat, and if you get raped by a pack of n***ers, it will be your fault." RadarOnline.com had heard the tape.
Article continues below advertisement
Now, in a blockbuster world exclusive, RadarOnline.com is posting the audio of Mel's disgusting outburst. You can listen to it here.
WARNING: This audio contains graphic and racist language. It has been left unedited so that the full impact of Mel's rant can be heard.
The tape begins with Mel berating Oksana about her breast feeding because she has implants. "So you're not lying to me about fake t*ts?" he says.
TRUE OF FALSE? Kim Kardashian's Plastic Surgery Rumors!
"I never have," she answers.
This is the buildup to his racist rant.
Mel gets enraged and tells Oksana that she lied to him. When she denies it, he says about her breasts: "They look ridiculous. Get rid of them why don't you."
But Oksana tells him it's none of his business and Mel rants, "Keep them if you want, they look stupid. Keep 'em if you want. Look stupid. See if i give a f*ck. They look like a Vegas whore. And you go around sashaying in your tight clothes. I won't stand for that anymore."
Article continues below advertisement
Oksana answers that she doesn't walk around in tight clothes.
"You go out in public and it's a f*cking embarrassment to me. You look like a f*cking bitch in heat. And if you get raped by a pack of ni**ers it will be your fault. Alright? Because you provoked it. You are provocatively dressed all the time with your fake boobs that you feel you have to show off. I don't like it. I don't want that woman. I don't want you. I don't trust you. I don't love you."
Mel and Oksana have an eight-month-old daughter Lucia.
Mel is being investigated by the L.A. County Sherriff's Department in connection with domestic violence charges. Oksana has told police that Mel punched her on January 6, knocked out two of her teeth and was violent with her on several occasions, a source told RadarOnline.com.
Oksana taped Mel because she was afraid for her life after he threatened to kill her, a source told RadarOnline.com. And on one part of the tape Mel tells her: "I am going to come and burn the f**king house down... but you will blow me first." (That excerpt is not posted here.)
Article continues below advertisement
Mel and Oksana dated after his marriage to Robyn fell apart. RadarOnline.com posted the first photos of Mel and Oksana together, as they romped on a beach in Costa Rica. Robyn filed for divorce shortly after those pictures were posted.
The Kardashian Family Tree - A Comprehensive Guide With Infograhic!
But his relationship with Oksana blew apart violently and Oksana went to law enforcement on July 5 and filed a domestic violence complaint against the Braveheart star.
Mel has not commented on RadarOnline.com's series of exclusives about his racist and profane rants that are caught on tape. He berates Oksana, calls her a "whore" and a "c*nt" and calls a Latino worker a "wetback."
The actor has been condemned by Rev. Jesse Jackson, the NAACP, anti-domestic violence groups and others in the wake of our ground-breaking exclusives on his behavior.
Now we've released the first piece of audio showing Mel at his sickening worst.