Ricky Gervais Skewers Jodie Foster, Kim K, Madonna & Justin Bieber At Golden Globes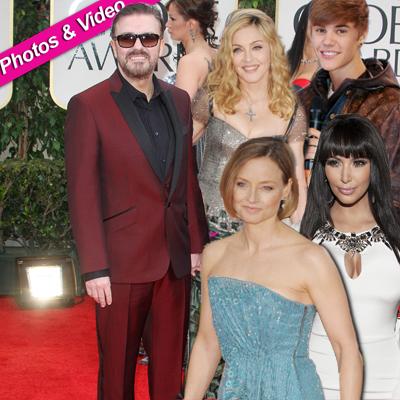 Ricky Gervais didn't have the same razor-sharp edge in his quips directed at the rich and famous at this year's Golden Globe awards as opposed to last year's -- but the British creator of The Office still managed to razz a few famous targets, including Jodie Foster, Kim Kardashian, Madonna and Justin Bieber.
Gervais, in his opening monologue, said show organizers told him he couldn't talk about Mel Gibson or his 2011 film, Jodie Foster's The Beaver.
Article continues below advertisement
"I haven't seen it myself," Gervais said in his best double entendre tone. "I've spoken to a lot of guys here, they haven't seen it either. But that doesn't mean it's not any good."
On Kardashian: "The Golden Globes are to the Oscars what Kim Kardashian is to Kate Middleton -- a bit louder, a bit trashier, a bit drunker and more easily bought."
Gervais added of Kardashian's 72-day marriage to Kris Humphries: "I've sat through longer James Cameron acceptance speeches!"
Watch the video on RadarOnline.com
On Bieber's paternity test: "What a waste of a test that would have been. The only way he could impregnate a girl if if he borrowed Martha Stewart's old turkey baster!"
On Madonna: "She's always 'Vogue,' she's a 'Material Girl' and She's just 'Like a Virgin'" (feigns cough); Madonna shot back at him, telling the comic, "If I'm still just like a virgin, Ricky, then why don't you come over here and do something about it? I haven't kissed a girl in a few years -- on TV."
Article continues below advertisement
Click here to see the full list of Golden Globe winners.
On Bridesmaids star Melissa McCarthy: "She made her mark in comedy this summer by defecating into a sink. Amazingly, that's still less demeaning than what most of you have done to make it in show business."
On Natalie Portman: "Last year, our next presenter won both the Golden Globe and the Oscar for her work in Black Swan. This year, she took some time out to have a baby. Consequently, she's been nominated for nothing. Really pathetic. But she learned that valuable lesson you all already knew: Never put family first. Please welcome the very foolish Natalie Portman!"
With award season in full swing, RadarOnline.com will be here to give you full coverage of the upcoming Academy Awards: Nominations will be announced January 24, with the show airing February 26.