Trying To Keep Up With Kim! Kris Jenner Flaunts Her Body In Red, White & Blue Bikini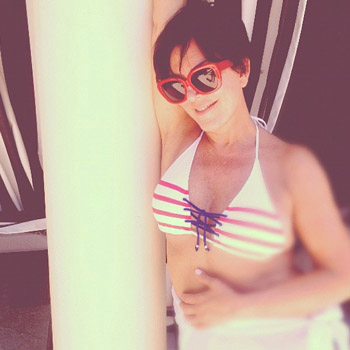 Kris Jenner's daughters are always flaunting their bikini bods or tweeting pics in various states of undress.
So the 56-year-old Keeping Up with the Kardashians matriarch is proving that she is not going to be outdone in an image posted on Twitter of her wearing a patriotic-themed two-piece during her July 4 celebrations.
For a woman hurtling towards 60 and with six children she doesn't look bad but placed her hand over her stomach while posing for the camera.
Article continues below advertisement
Kris' 14-year-old daughter Kylie wrote above the picture, "How stylish is my mom?"
The reality show maven is no stranger to cosmetic surgery to help her roll back the years and allowed the reality show cameras to follow her as she underwent a facelift last year and has also had a boob job and no doubt a touch of Botox.
But thank goodness Kris spared us from her exploits from season one of her show when she lay spread-eagle naked on a couch with just the American flag to cover her modesty during a photo shoot.