Bruce Jenner Sides With Kourtney's Partner Scott Disick After Spat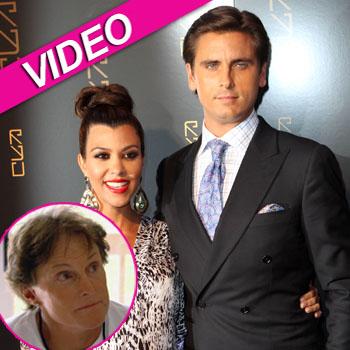 Scott Disick was the center-of-attention on Sunday's Keeping Up With the Kardashians, as Kourtney's debonair baby daddy melted down after a fight with his partner, only for Bruce Jenner to swoop in and soothe his fragile psyche.
Scott became the object of Kourtney's ire after he and Rob Kardashian drunkenly played a rib on young'uns Kylie and Kendall during the family's trip to the Dominical Republic.
Article continues below advertisement
Kim let the cat out of the bag, telling Kourtney "Scott peed in a trash can," which spurred her older sister to angrily confront Scott as he slept. In response to the dressing down, Scott later stormed from a family gathering and complained, "I don't even want to be on these stupid f*cking family trips -- I feel like I'm just done."
Bruce took it upon himself to try and smooth things over with Scott, who said he's exhausted at the level of scrutiny Kourtney puts him through, saying that he feels she could break up with him at the drop of a hat.
"I'm scared to do anything!" Scott told an empathetic Bruce, adding he doesn't feel he's acknowledged as a member of the family.
Scott did have support from both Bruce and Kris Jenner, who tried to explain to Kourtney her partner's sensitive nature.
"He's been in the family six years and he never feels quite worthy," Bruce explained, while Kris said, "I want him to feel loved because he's the father of my grandchildren."
Article continues below advertisement
Kourtney, better understanding of the emotional disconnect, bought Scott a love bracelet at the end of the show, telling him, "You're not disposable and I don't want you to feel that way."
Disick has a son named Mason with Kourtney, and a daughter on the way. He recently opened a New York restaurant called RYU.
Watch the video on RadarOnline.com
We'll see if the harmony keeps up when Keeping Up with the Kardashians returns Sunday on E! at 9/8c.