Kim Kardashian & Sisters Prance Around In Bikinis In Tacky Vacation Video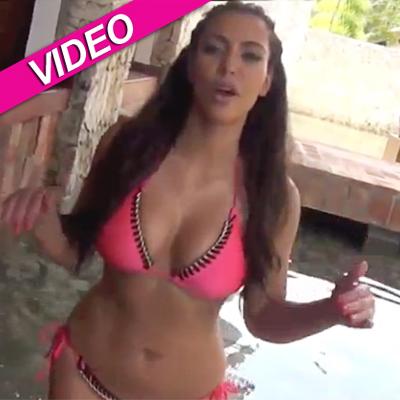 WARNING: Video Contains Explicit Language
Kim Kardashian and her family didn't leave the Dominican Republic empty-handed.
The first family of reality TV has unveiled their latest contribution to society, a Youtube clip set to Notorious B.I.G.'s Hypnotize, in which the family's female members -- including daughters Kendall, 16, and Kylie, 14 -- prance around in their bikinis.
The young'uns Sunday uploaded their Youtube clip to their page with the message, "heres our latest family music video to Hypnotize by Notorious B.I.G.!!! we might get some hate but who cares, we had fun doing it! hope you guys don't take this too seriously! love you allllllll!!!! ENJOY"
Article continues below advertisement
When not dancing alongside her bikini-wearing teen daughters, momager Kris Jenner is seen slapping husband Bruce Jenner on his rear end in the clip. In yet another affront to good taste, Kris can be heard yelling, "Where is my music, motherf*****?" during a gag reel at the end of the clip.
Also in the clip are Kourtney, showing off her baby bump; her partner, Scott Disick, wearing a hip-hop-inspired a doo rag and sunglasses; and Rob Kardashian, wearing a baseball cap backwards.