Daddy's Little Girls! Bruce Jenner Watches Over Bikini-Clad Kendall And Kylie Jenner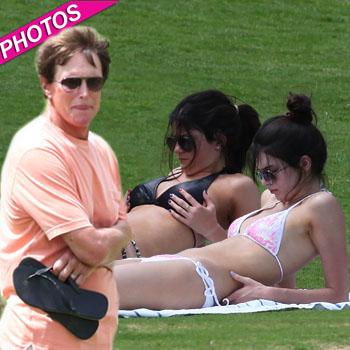 If our teenage daughters were growing up as fast as Kendall and Kylie Jenner we wouldn't let them out of our sight either!
Kim Kardashian's teenage sisters showed off their model bodies in extremely racy bikinis on Wednesday afternoon in Hawaii, but luckily their proud poppa, Bruce Jenner, was there to keep the boys away – and RadarOnline.com has the photos.
Teen models Kendall, 16, and Kylie, 14, basked in the sun, both wearing mix-and-match bikinis on the grassy lawn of their posh resort, while Bruce, in an orange t-shirt and cargo shorts, hovered protectively over them.
Article continues below advertisement