'I Was The One Making Kanye Keys To Her Hotel Suite': Kris Humphries' Ex Claims Kim Kardashian Cheated On Reggie Bush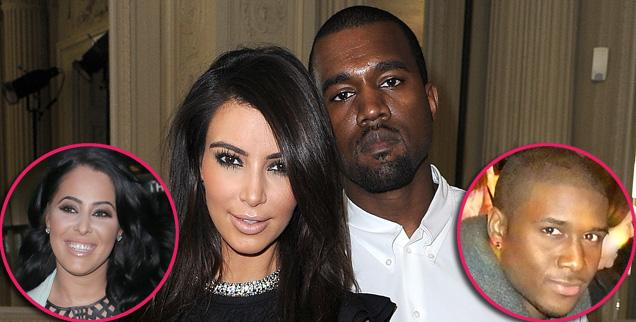 Article continues below advertisement
The amount of the August, 2012, check was blurred, so as not to reveal how much Myla received for agreeing to provide testimony, but it is marked that it was a "witness/travel" fee.
"Truth is my ass didn't want to go to her dumb deposition, so I said i have no dollars for gas," Myla wrote on Twitter. "But that didn't stop her from mailing me a checks that's how bad she wanted me to go! Which i dont understand why."
However, it was the former hotel worker's claims about Kim's infidelity during the time she was dating Detroit Lions running back Bush, 28, that stunned the twittersphere.
Myla -- who is no stranger to headlines, amid fake pregnancies and threatened lawsuits -- alleged that she eye-witnessed Kanye, 35, going into Kim's hotel suite at 2 a.m. on one morning during a shift at the luxury W Hotel, where she worked.
Article continues below advertisement
"She should thank me for my discretion for not mentioning the fact when i was the Overnight Manager at the W Hotel," she wrote.
In another Tweet, Myla wrote:
Seemingly taunting Kim, who announced on Sunday night that she and Kanye are expecting a girl next month, Myla also warned that "there is soooo much more
that i know and had to be quiet about, but i ain't working at the hotel no more so."
This is not the first time Kim has been at the center of allegations she and Kanye secretly had a relationship: In January, 2012, the rapper's ex-girlfriend, Amber Rose, said Kim instigated an affair by calling, texting and sending Kanye racy photos of herself.
"Kim is one of the main reasons why me and Kanye are not together," Amber said, adding: "She's a home wrecker! They were both cheating on me and Reggie with each other.
"She was sending pictures, and I was like, 'Kim, just stop. Don't be that person,'" but apparently Kim didn't care enough to respond when Amber emailed her for an explanation.
"I thought at least she¹d be woman enough to respond to me. She never responded."
NBA star Kris was also said to have "known" the E! reality star had cheated on him, too, with Kanye, when the rapper failed to make their wedding guest list.
Myla finished her diatribe with a message for West: "My advice to Kanye is 'if they cheat with you, they cheat on you.' Remember that sh*t."