It's A Girl! Kim Kardashian Revealed She And Kanye Are Expecting Baby Daughter On Kardashian Season Premiere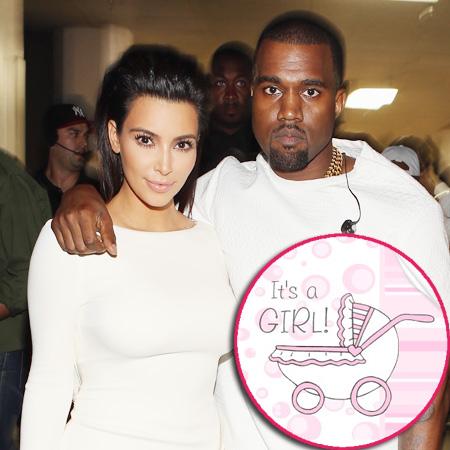 Pregnant Kim Kardashian finally revealed to fans that she and baby daddy Kanye West will be having a girl via the Keeping Up with the Kardashians season 8 premiere on E! on Sunday night.
But, as usual, Kanye was conspicuously absent from the show and viewers never saw the rapper getting the happy news!
While it had long been rumored that Kim and Kanye were expecting a daughter, it hadn't been officially confirmed. But during Sunday's big show reveal, Kim's doctor, Paul Crane, had the reality star, her mom Kris Jenner, and sisters Khloe and Kourtney view her sonogram to find out the sex of the baby.
Article continues below advertisement
"I'm thinking it's a girl," Dr. Crane said.
"What's the percentage?" an anxious Kim asked.
"Ninety-nine plus," replied her doctor.
"I"m so excited we're having a girl," Kim beamed on the show. "Who doesn't want a girl? Like, they are the best. I know that's what Kanye has always wanted, a little girl."
Viewers had to take Kim's word for it, as Kanye was never seen or heard from on Sunday's show. But the Kardashian family couldn't have been happier for her, with proud mamma Kris saying in the doctor's office, "Congrats, Kimmie. We love you!"
In a humorous side moment, Kim bragged about her boyfriend's manhood, saying when no penis was visible in the sonogram: "He'd definitely take after his father, so you WOULD see it."
But Kim and Kanye now know they'll be continuing in the tradition of the female-centric Kardashian clan and won't have to hide it anymore.
Before the joyful premiere climax, however, viewers saw Kim dealing with her ongoing divorce from second husband Kris Humphries, (which has since been settled) and remodeling her new house with Kanye.
Article continues below advertisement
The episode proved how hard Kim's pregnancy has been, as the E! beauty told Khloe about how going to court with Humphries was stressing her out: "I'm exhausted emotionally. I don't know what to do."
radar_embed service=5min.com src="http://pshared.5min.com/Scripts/PlayerSeed.js?sid=1126&width=570&height=351&playList=517801815&sequential=1&shuffle=0"
Later, in a visit to the doctor to hear the baby's heartbeat, mamma Kris was worried when she was more excited than her daughter-- and when Kim joked about eating the placenta!
During Sunday's show, Kim gave Khloe a tour of the house she and Kanye bought together, telling her dumbfounded sister that they were building a 25-foot wall and moving the pool, but not doing any baby-proofing yet! Clueless Kim told Khloe that their other sisters, young Kendall and Kylie, could be her nannies. Khloe laughed, "I don't think you get it. You're in for a major wake-up call!"
Later, mama Kris told Kim she was going to build her a nursery in the old Kardashian family homestead, but Kim sighed, "I'm not ready for this." Worried Kris said, "The fact she can't enjoy being pregnant breaks my heart." Kim finally explained to her mom, "I"m going to have this baby married to someone else," the way she never wanted to start a family. They both cried and then Kris reminded her how so many women would be grateful to be pregnant at all. Kim said she was, but couldn't help being stressed out.
Article continues below advertisement
But learning she would be having a girl finally put Kim into a happy mood and she went shopping for baby items with Kourtney. She felt she would need to buy her little girl musical things because of Kanye's background, and suggested they start a little band with Kourtney's kids Mason and Penelope. The famed shopper cooed over a baby bottle and little pink stuffed animals. "I finally feel I'm in a really good place being pregnant," Kim said when she was back at her house (where Kanye was, again, nowhere to be seen).
But that wasn't all! In an outrageously inappropriate twist in the premiere, Kourtney's baby daddy, Scott Disick, got jealous of Rob Kardashian having backdoor sex with his new girlfriend. Scott then told Kourtney they should spice up their sex life that way. But Kourtney was repulsed by the idea! Later, after Khloe suggested Kourtney should do it to Scott first, Kourtney came at her longtime boyfriend with a dildo! "This is the most bizarre thing I've ever done," Kourtney said, threatening Scott that she would "break you open." Scott cried, "Get out of here, you little freak! This is so disgusting." With Scott finally understanding how Kourtney felt, he agreed he'd never bring up the raunchy sex suggestion again!
Meanwhile, mama Kris and her husband Bruce Jenner appeared to be having marital problems after the former athlete had his buddies visit the house. Kris suggested her mate of 23 years get his own man cave, and he rented a place in Malibu, which had their kids worrying about a breakup. But Kris soon found herself missing Bruce and they kissed and made up at the end.
"I will always love Bruce Jenner," Kris told viewers as the episode ended.