Exclusive
How Kris & Bruce Jenner's Marriage Crumbled: Sexless Nights, Separate Lives & Secret Emails To Exes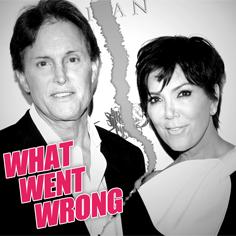 Many were shocked when Kris and Bruce Jenner released a statement confirming their separation on Tuesday afternoon -- but not readers of RadarOnline.com!
For more than a year, we have exposed every crack in the couple's 22-year marriage, all leading up to the bombshell announcement.
Signs of trouble were first apparent back in July 2012, when Bruce reportedly caught Kris composing an email to her ex, Todd Waterman.
Article continues below advertisement
At the time, the National ENQUIRER claimed the momager was even meeting up with the tall, dark and handsome former soccer star behind Bruce's back.
By December, a family insider confided to RadarOnline.com: "Kris and Bruce are all but over. They have grown apart and their relationship is all about business these days rather than love and romance."
"They've built a brand together, though," the source explained, so they remained determined to "keep up" appearances for the cameras.
Article continues below advertisement
Soon after that ripple, 57-year-old Kris was accused once again of cheating on Bruce with her former flame, Waterman.
Still, the couple seemed to be weathering the storm in quiet for several months, until things exploded in June when Khloe Kardashian ripped the lid off Kris and Bruce's chilly relationship.
"In my house there's a man room for Lamar Odom, so I think they took my idea and ran with it... they got another house and Bruce stays there sometimes," she revealed during an appearance on The Tonight Show with Jay Leno.
"I'm not for that, but it's too each their own. I think too much time apart is not a good thing."
Days later, a sensational headline claimed that Bruce, 63, was privately complaining to friends that he and Kris hardly ever had sex any more.
But then in an interview for Time.com, the champion Olympian continued to insist that he and Kris were "as committed as ever."
By the end of the month, however, RadarOnline.com had exposed his lies: In an exclusive report, we revealed that Bruce had moved out of the family mansion in Calabasas.
Article continues below advertisement
"We are living separately and we are much happier this way," the statement read.