Bruce Jenner Moves Out Of Family Mansion After Kim Kardashian, Kanye West & Baby Move In!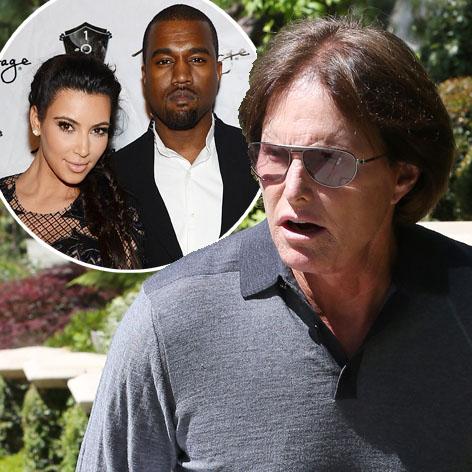 Baby North has made Bruce Jenner go South.
The Kardashian-Jenner patriarch has moved to his Malibu, Calif., beach house for the rest of the summer after new parents Kim Kardashian and Kanye West moved into the family's mansion in Calabasas with their newborn, RadarOnline.com has learned.
The Olympic gold medalist, "decided to ditch the family home because he was constantly being told to be quiet because of baby Nori," a source said. "Bruce was unable to have his friends over to fly their remote controlled helicopters in the backyard because of concerns of noise."
Article continues below advertisement
The Kardashian clan was also concerned one his pals might try and snap a photo of North and sell it to the media!
A family insider told Radar: "The entire household has been turned upside down because Kim and Nori have moved in. Bruce has been run out of the house! Kris didn't encourage him to stay either."
As we previously reported, new mom Kim, 32, is getting acclimated to her new life as a parent — a life that includes a 24-7 baby nurse and lots of breastfeeding for Kim — but no changing diapers for Kanye!
"Kim is breastfeeding constantly -- she loves it — Kanye holds the baby all the time," an insider told US Weekly, while another source told the magazine, Kanye "doesn't leave North for more than an hour," though "he's not changing diapers."
Viewers of Keeping Up With The Kardashians were stunned when Jenner, 63, rented a beach house in Malibu because he wanted a place to call his own, after complaining his wife of 22 years was nagging him about cleanliness and didn't allow his friends to come over.
Article continues below advertisement
During a recent appearance on The Tonight Show With Jay Leno, Khloe Kardashian said: "They're not having problems but they still like to live apart. In my house there's a manroom for Lamar (Odom) so I think they took my idea and ran with it and they got another house and Bruce stays there some times. I'm not for that. But it's to each their own.
"I think too much time apart is not a good thing."
Bruce is enjoying his rental pad so much that "he has asked Ryan Seacrest's production company, which is picking up the tab for the lease, to extend it another six months," the source told Radar. "He really is making it a home of his own."