Exclusive
Brody Jenner Has 'No Relationship With Stepmonster Kris Jenner' & Wishes Bruce Would Divorce Her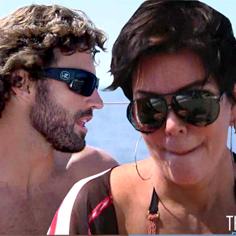 Article continues below advertisement
But under pressure from Bruce, Kris made flight plans for Brody so he could join the gang.
"I'm not the evil stepmonster you think I am. I just want a little bit of credit," she told Bruce.
The latest snub of not being invited on the Kardashian-Jenner family vacation, "absolutely didn't shock him. Brody has had a lifetime of this and he holds Kris responsible for Bruce not being a bigger part of his life when he was a child," a source told exclusively told Radar.
"Kris wouldn't let Bruce spend time with Brody and Brandon when they were young because it would be time kept away from her, and when Kris became pregnant with Kendall and Kylie, the boys hardly ever saw their father. Kris is very persistent and used to getting what she wants, and Brody and Brandon suffered because of it."
During the Greek vacation, Brandon revealed to Brody about Kris and Bruce, "I don't think they share a room anymore."
He added that back home in L.A., Bruce only had a tiny little corner of the garage for his own use, and Bruce didn't speak up for himself.
"There's an imbalance within the house," Brandon said.
"That sounds like a relationship I don't want to be in," Brody said. "It's hard to hear he's not respected as much as he should be."
The former Hills star, "wishes his dad would just divorce Kris. Bruce and Kris are leading separate lives and don't even share a bedroom together anymore. He has been spending a lot of time at his Malibu rental without Kris. Brody wants to be closer to his dad, but it's very hard with Kris in the picture, because she always has to make everything about her," the insider revealed.