Is Kris Jenner A Step-Monster? Talk Show Hostess Feuds With Stepson Brody on KUWTK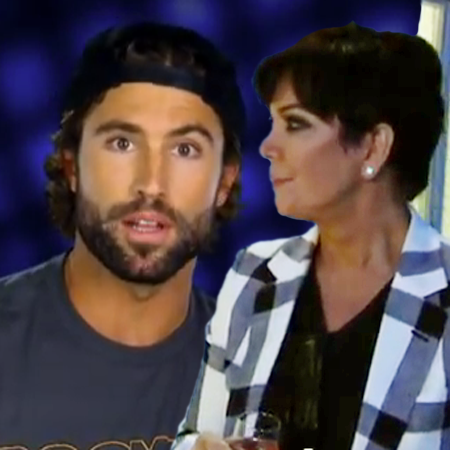 Kris Jenner and her stepson Brody's strained relationship was causing fresh problems in her marriage to Bruce on Sunday night's Keeping Up with the Kardashians.
The new talk show hostess and her husband Bruce Jenner's son (from his previous marriage to Linda Thompson) were feuding after Kris didn't invite Brody on the big Kardashian family vacation to Greece.
But under pressure from Bruce, Kris made flight plans for Brody so he could join the gang. "I'm not the evil stepmonster you think I am. I just want a little bit of credit," she told Bruce.
Article continues below advertisement
But, as RadarOnline.com readers know, it's just another source of tension for Kris and her former decathlete husband, who moved out of the family home earlier this year for his own Malibu man cave, sparking reports their marriage is in trouble.
"To hear that everyone else was invited and I wasn't included hurt," Brody said about the Greek vacation snub.
"Where is my invite?" Brody said over the phone to his dad, Bruce, who promised to ask Kris about the situation.
And he later confronted his wife, pointing out Brody wasn't invited to Greece at a time in which he was trying to reconnect with his son.
"He's busy or he flakes," Kris complained. "I always feel like Brody's so busy he doesn't have time for us."
Bruce snapped, "Your job is to invite him."
So, she did -- with very tense results!
In Greece, Brody confided to his brother, Brandon Jenner, and Brandon's wife, Leah, that he wasn't even properly invited by Kris. Brandon said Brody and Kris needed to hash things out.
Article continues below advertisement
But Brandon also revealed to Brody about Kris and Bruce, "I don't think they share a room anymore." He added that back home in L.A., Bruce only had a tiny little corner of the garage for his own use, and Bruce didn't speak up for himself.
"There's an inbalance within the house," Brandon said.
"That sounds like a relationship I don't want to be in," Brody said. "It's hard to hear he's not respected as much as he should be."
The issues between Kris and Brody got worse during a Greek dinner when Kris told Brody she texted and called him about the travel arrangements and he didn't respond.
"I wouldn't blatantly ignore you," countered Brody, who said he never got the messages.
And as the episode ended, Kris was concerned about how the rest of the vacation was going to go!
In the other major storyline on the show, Rob Kardashian decided not to visit Greece because he was still concerned about his ballooning girth.
Article continues below advertisement
"I'm so insecure with my weight I don't want to go anywhere," Rob told Brody.
Later, during a heart-to-heart with Khloe's husband, Lamar Odom, Rob admitted to Lamar his size prevented him from joining the others in Greece.
"I'm not feeling myself, gaining a bunch of weight," he said. "It's just frustrating to me I'm not happy going out if I'm not in good shape. Within the next six months, if I don't get this together, then I won't want to hang around everybody and I want to--so my mom doesn't cry and think something bigger is going on when it's really very simple. I need to get my body back together and that's it."
Rob insisted to Lamar, "I'm not depressed."
But NBA player Lamar, who had career struggles after leaving the Lakers, said, "If you don't take care of yourself, you hurt your relationships, no matter what. I've been there--where you're not acting the same and not looking a certain way. I came out of it by doing for myself, like I couldn't do it for Khloe, the name on the back of my jersey, I had to do it for Lamar."
Article continues below advertisement
"I just want to see Rob happy," Lamar told viewers.
On Sunday night, KUWTK viewers also witnessed Kim Kardashian finally getting her divorce from husband Kris Humphries after she had feared having her baby with Kanye West while still married to another man.
She also revealed to her mom and sister Khloe she wanted to have a conversation with Kris. "I would say 'I'm sorry I hurt you.' I want to apologize for that," Kim said.
But that meeting didn't take place--instead, she called her mother after leaving the courthouse, crowing, "I'm officially divorced. I'm so excited."
When her mother asked if she had told baby daddy Kanye the good news, Kim told her, via speaker phone, "No, I haven't yet. You're the first person I'm calling."
"Awww," a touched Kris said. "I've been praying about it all morning. Congratulations!"
Later, Kim celebrated during a surprise birthday party the family threw for Kourtney at Taverna Tony in Malibu, where Bruce and Brody continued their father/son bonding by downing shots together!
Scott Disick got the blame when Kourtney showed up more than an hour late.
Watch the video on RadarOnline.com
"He's just a d****e," Kris snapped.
At the birthday party, Lamar and Khloe, whose marriage has also come under fire with a woman recently claiming to have had an affair with the basketball star, looked very cozy.
"Lamar was on an adult site and that stupid candy video I made for him is on the web site. It's so sick and gross," Khloe said as her husband laughed into a napkin.