Kris Jenner Consults Shrink After Son Rob Kardashian's 'Depression' And Near-Arrest On Show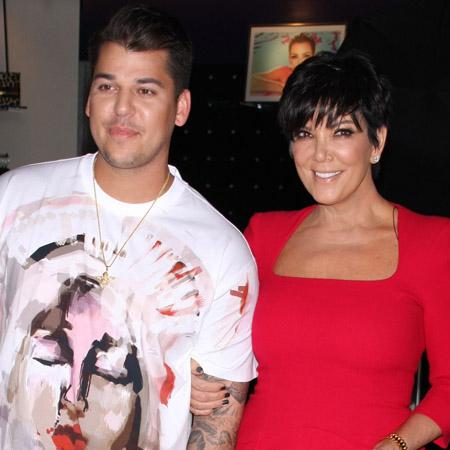 Kris Jenner consulted a shrink over overweight son Rob Kardashian's "depression" after he came close to being arrested, viewers learned during Sunday night's Keeping Up With The Kardashians.
The reality TV matriarch felt she needed to seek counseling help after Rob almost had to get a mug shot over a paparazzi problem, which, as RadarOnline.com readers know, was recently settled out of court.
But the drama was very shocking at the time, with Rob telling his mother that he had to turn himself in, be arrested, and post bail. A female photographer was pressing charges, alleging that the Kardashian brother committed battery and damaged part of her camera after she tried to take pictures of him.
Article continues below advertisement
As Rob drove his jeep to the courthouse, he sighed, "I see all the nasty things people say...it hurts. I'm definitely nervous."
And he'd explained to his mother, "She's mad that she didn't get a picture."
The crisis was averted when famed attorney Bob Shapiro got Rob out of hot water.
"He avoided an arrest and everything," a relieved Rob told his mom on the phone after leaving the courthouse.
After hearing the news, Kris cried to her son over the phone. Rob was surprised at Kris' emotion.
"I'm the only one that can help myself. Thank God I didn't have to get booked," he said.
But Kris and his sisters Kim, Khloe, and Kourtney had been concerned for days over Rob's odd behavior. Khloe said he had anger issues and the sock mogul went berserk when his family didn't take him seriously enough to pick him up when he called them for a ride. Kourtney suggested to their mom that she meet with a therapist to better understand Rob.
Article continues below advertisement
While the family's E! show has not yet revealed Rob's romantic problems, RadarOnline.com has previously reported that he broke up with his girlfriend, singer Rita Ora -- then got involved in a nasty Twitter war with her.
But on the show, after Rob's potential arrest mess was averted, Kris went ahead and met with a therapist in an effort to better understand her troubled son.
"I'm worried I'm not a good enough mom," she told the doc.
The shrink reminded Kris that mothers can't be there all the time and "It's important for him to say 'I need help.' You can't get someone out of depression."
"I try not to let him feel my panic," Kris said. "I feel scared," she added, wiping away tears. Kris told the therapist she wanted Rob to meet him.
Back at the Jenner homestead, Kris confronted Rob about his mood swings and told him, "I think you can really benefit from talking to somebody."
Article continues below advertisement
But the Kardashian brother was none too pleased about her idea.
"I don't buy any of that," he snapped.
"I'm your mom, Rob, and I just can't let you..." Kris said, her voice breaking before she continued in tears, "hide out in your room. You just spend a lot of time in that room and that is a sign to me of somebody who's not extremely happy and maybe a little bit depressed."
Rob claimed, "I'm good. I don't need to see anybody. I'm cool. I guarantee you a year from now, I'll be in the happiest place in my life, feeling good all around."
Kris said, "I'm here for you. I don't want you to sit up in your room and be dark. I care about what's going on inside."
She concluded in her confessional, "I can't make him do something like this unless he wants to help himself."
Also on Sunday's show, as RadarOnline.com previewed, Kris and Bruce Jenner's teen daughters, Kendall and Kylie, were at odds and the older Kendall said all her sister did was "behave like a brat."
Article continues below advertisement
Viewers saw Kendall viewing her modeling shots in a gallery and her proud mama Kris being told by photographer Russell James that she had unlimited potential to be a supermodel.
Meanwhile, Kylie was going in a different direction, pursuing acting auditions. When the feuding sisters got together at a photo shoot, Kylie annoyed Kendall by taking selfie pictures of herself instead of getting down to business. Tensions also ran high between the sisters during a meeting for their joint clothing line.
Kylie told her older sister and peacemaker Khloe, "I need a break from Kendall. As an older sister, she puts a lot of pressure on me. In her mind, I'm supposed to listen to whatever she says."
But in the end, Khloe, Kim, and Kourtney brought Kendall and Kylie together at a trampoline place and they mended fences.
"We've all chosen to be be best friends. Why don't you two hug it out," Khloe said, and the younger sisters obeyed!
Article continues below advertisement
In another Keeping Up With The Kardashians storyline, Scott Disick decided he would try to learn how to race cars in an attempt to make a real career out of it. Kourtney wasn't happy but didn't want to stop him from pursuing his dream. At the racing school, however, Scott didn't feel comfortable and decided to go home.
"He said he has social anxiety," Kourtney confided to her family.
Scott later returned home and admitted to Kourtney that he couldn't handle being around people he didn't know and didn't want to be a loser on the race track.
"Everyone's looking for me to fail," he said.
Kourtney stressed it was more about trying things than caring what others thought.
While new mom Kim has not had a meaty storyline on the show for two weeks, on Sunday, fans saw a lighter moment at an interior designer's store. Kim told her sisters and mom Kris of her baby daddy, with whom she shares a home, "I don't know what Kanye's style is, so I'm taking a picture of everything weird."