It's A Full Blown Twitter War! Rob Kardashian Blasts Ex-Girlfriend Rita Ora, 'You Let Me Get You Pregnant'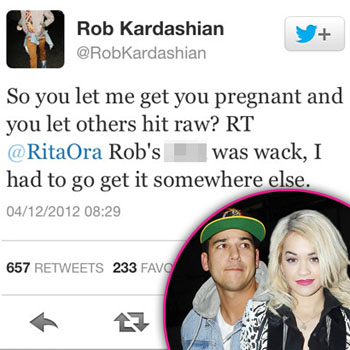 Article continues below advertisement
The reality star slammed Ora in a slew of social media messages, accusing her of cheating on him during their relationship and after maintaining a lengthy dignified Twitter silence the 22-year-old Brit finally blasted back.
"Rob's d**k was wack, I had to go get it somewhere else," she wrote.
"So you let me get you pregnant and you let others hit it raw?" the reality star bounced back at her.
All tweets have since been deleted, and on Tuesday morning, Kim Kardashian's little brother seemingly attempted to back pedal, claiming that he never once mentioned Ora by name – even though the pregnant tweet was in direct response to hers and included her hash tag.