Rob Kardashian Blasts Ex-Girlfriend On Twitter, Accuses Her Of Cheating With Nearly 20 Dudes!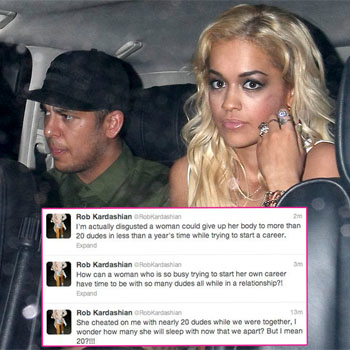 That's one way to let everyone know that your relationship is over!
Rob Kardashian, worked himself up into a verifiable tweeting frenzy early Monday morning, slamming an unnamed former lover, branding her as "disgusting" and alleging that she cheated on him with nearly 20 dudes, and RadarOnline.com has the details.
Kardashian has most recently been linked to sexy Brit singer Rita Ora and the two have reportedly been dating for the past few months — but by the look of things that could well be over! Holding nothing back, apart from the guilty party's actual name, Karadshian let everyone know that he is definitively single once again, and back on the market!
Article continues below advertisement
"She cheated on me with nearly 20 dudes while we were together, I wonder how many she will sleep with now that we apart? But I mean, 20?!!!!!" Kim Kardashian's little brother railed.
The reality star, who has since deleted all the tweets, continued to rant about his mystery cheating ex and RadarOnline.com has all the details thanks to E! Online.
"How can a woman who is so busy trying to start her own career have time to be with so many dudes all while in a relationship?!" He fumed.
"I'm actually disgusted a woman could give up her body to more than 20 dudes in less than a year's time while trying to start a career," he concluded.
What do you think about Rob slamming his ex on Twitter? Sound off below.
RELATED STORIES:
Kim Kardashian: No Make-Up Reveals Blemishes And Ugly Cold Sore
Khloé And Kourtney And Mason Take Miami Beach
Anti-Kim Kardashian Protesters Riot In Bahrain, Police Use Tear Gas!