Kim & Kanye Have Double Date With Rob & His Girlfriend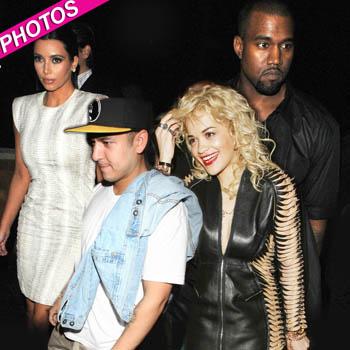 The Kardashians do everything together – even dating!
Kim is usually surrounded by her mom or sisters, but it was little brother, Rob Kardashian, who got the royal treatment on Wednesday night when the siblings went on a double date in London with their other halves.
Sitting side-by-side at the Zuma restaurant in England's capital, Kim enjoyed girl time with Rob's girlfriend, singer Rita Ora. "They were chatting constantly and laughing together, Kim was in a really good mood!" a source told Us Weekly.
Article continues below advertisement
On the other side of the table former Dancing With The Stars contestant Rob, 25, kept rapper Kanye West entertained, all the while making eyes at exotic 21-year-old Rita, who he has been dating since December.
It wasn't just the two young love birds who showed a romantic spark, as Kim and Kanye appeared to be equally smitten with each other. "When Kanye got up to leave he gave Kim a lovely tender kiss on the lips," revealed the witness. "They're cute together!"