Social Media Shockers! 10 Stars Who Have Gone Too Far On Twitter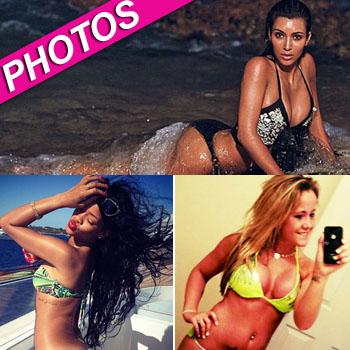 When these stars are active on social media, they are their publicist's worst nightmare.
From going on outrageous rants and getting in fights with their Twitter followers to sharing super scandalous photos and details about their personal lives, these Hollywood celebrities have gotten themselves into hot water by sharing too much on social media. RadarOnline.com has photos and details about 10 stars who have shocked the world by going too far with their tweets.
Article continues below advertisement
PHOTOS: 10 Stars Who Have Shockingly Shared Too Much On Twitter
LeAnn Rimes is the ultimate Twitter addict! Famous for sharing images of her super skinny bikini body that spawned eating disorder speculation early in her social media career, the country star ended up in a 30 day treatment program to deal with "stress and anxiety" partially stemming from the very public battles she would get into with her followers, who bashed her for her "home-wrecker" ways. LeAnn is currently embroiled in a lawsuit with one of her "cyber bullies," a high school teacher, who she claims illegally taped their phone conversation.
Ashton Kutcher was definitely an early Twitter advocate, until he got himself in a whole lot of trouble for sharing too much and had to hand over the reins of his account to his management. From posting nearly naked photos and details about his wife, Demi Moore, and deleting and blocking almost every member of the media from viewing his tweets after the news of his shocking affair, and finally to his infamous Joe Paterno tweet, "How do you fire Jo Pa? #insult #noclass as a hawkeye fan I find it in poor taste," during the Penn State sex scandal, the actor definitely made his mark on the social media site.
Article continues below advertisement
And bad boy rapper Chris Brown loves to stir controversy on Twitter, which often gets him into trouble. From graphic photos of his bar fight war wounds and his outrageous terrorist Halloween costume, to ranting about his unfair treatment at the Grammy Awards stemming from his infamous attack on former girlfriend Rihanna, Brown often regrets his Twitter behavior and ends up deleting his tweets when he starts to feel the heat.