Rihanna: 'I Still Love' Chris Brown, 'Think He Is The Love Of My Life'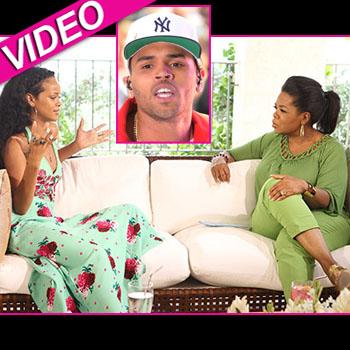 Rihanna told Oprah Winfrey Sunday that despite the vicious beating she took at ex-boyfriend Chris Brown's hands, "I still love him."
The 'S&M' singer, 24, opened up in her appearance on Oprah's Next Chapter about her oft-speculated relationship with the 'Forever' singer -- she says they're currently "very close friends" -- after he famously beat her in February of 2009.
"We built a trust again and that's it," the 'Umbrella' singer, who said she's single, told Oprah. "We love each other and we probably always will."
Article continues below advertisement
Rihanna said they've reunited on occasion, the last being this past July in St. Tropez.
"We've been working on our friendship again and now we're very close friends and that's not anything we're going to try to change," the 'Only Girl' singer said.
She admitted the meetings with Brown -- who has a gorgeous girlfriend named Karruche Tran -- are "awkward because I still love him.
"My stomach drops and I have to maintain this poker face and not let it get to the outer part of me. I have to maintain it and suppress it. When you don't understand those feelings you can make a lot of mistakes...I think he is the love of my life. He was my first love."
Despite the mixed feelings, Rihanna said she knows she has "to move on.
"I have forgiven him. It took me a long time. I was angry for a long time," the Barbadian beauty said. "I truly love him, so the main thing for me is that he's at peace...I care."
As for Brown's public image, the singer said, "I can't tell people how to feel about him … they're entitled to feel angry because it wasn't a good thing that happened. But I have forgiven him."
Article continues below advertisement
Watch the video on RadarOnline.com
The hot-tempered hip-hop star received five years of probation, community labor and one year of domestic-violence counseling in connection with the vicious beating. His career initially stumbled, but has recovered since the incident, as he collected a Grammy this year.
Right after the incident -- amid reports RiRi and Chris had briefly reunited -- Oprah famously took to the air to warn the Barbadian Beauty, "If a man hits you once, he will hit you again!"