Exclusive
Chris Brown Unleashes Anti-Gay Rant At A Pick-Up Hoops Game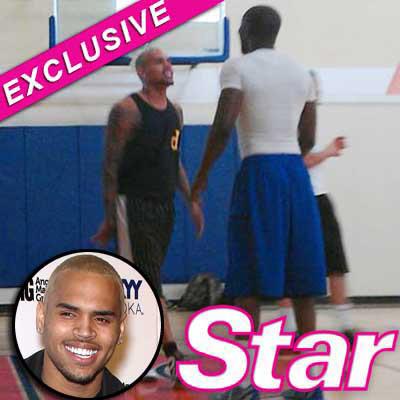 by Star Staff
So much for rehabilitating his image!
Chris Brown shouted anti-gay slurs during a recent pickup basketball game, stunning and repulsing onlookers, Star magazine is reporting via RadarOnline.com.
On June 29, the R&B singer turned up at a 24 Hour Fitness center in Los Angeles and joined a casual pickup game.
But things quickly turned ugly.
"He got really ticked off when things didn't go his way during the game, saying, 'That's gay!' and 'You're a f*gg*t a**!' to the other players," an eyewitness tells Star exclusively.
Article continues below advertisement
Chris even got in the face of one player, berating him for missing a shot.
When another player didn't pass him the ball, the 22-year-old Forever singer, perhaps best known for beating up Rihanna, fired off more slurs, calling him a "f*gg*t" and saying it was a "gay" move.
However, unlike that fateful night in 2009 when he assaulted his then girlfriend Rihanna, Chris managed to keep his fists to himself.
"There was no physical contact, but he was verbally aggressive," notes the source. "His demeanor was over the top."
Even his burly bodyguards got in on the intimidation at the basketball game, threatening to kick out anyone who tried to snap pictures — even though they were members of the gym!
For more on Chris Brown's homophobic rant, pick up the new issue of Star!
RELATED STORIES:
Pilot Rants Against 'Gays, Grannies & Grandes' Over Air Radio