Miley Cyrus Goes On Strange Tweeting Spree, 'I Feel Like I Love Everyone More Than They Love Me'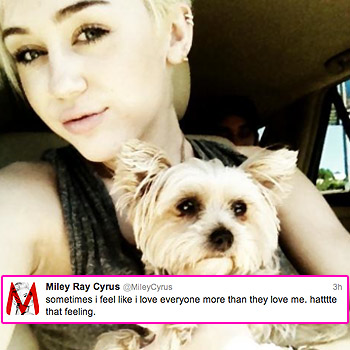 Miley Cyrus may complain that she has no privacy, but that doesn't stop her from sharing her inner most thoughts and feelings on social media!
The controversial 19-year-old went on a tweeting spree on Thursday, revealing her "thoughts" on wanting "more passion" in her life and how she feels like she loves everyone more than they love her, and RadarOnline.com has the details.
"Ever feel like you want just.... something more. not sure what exactly... passion perhaps?" she shared on Thursday.
Article continues below advertisement
"Sometimes i feel like i love everyone more than they love me. hatttte that feeling"
It didn't take long for Miley, who flashed some major side boob on Wednesday, to continue sharing her inspirations.
"Thought of the day: maybe it's not that they love you less, they just love you the most they are capable of loving."
However, after her fans on the social media site started jumping to conclusions that she was making a reference to fiance Liam Hemsworth, she quickly issued a disclaimer.