Exclusive
Miley Cyrus' 'Provocative Behavior' Is Reminiscent Of Britney Spears' Downward Spiral, Says Expert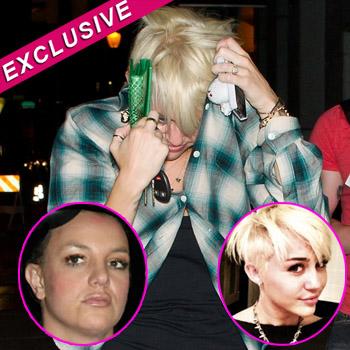 Article continues below advertisement
The 19-year-old wild child unveiled her short, spiky blonde cut on Twitter late Sunday night, writing that she "never felt more me in my whole life" and was "feeling so happy in my skin."
However, her positive affirmations quickly became defensive following criticism of her new funky haircut, prompting her to proclaim that "opinions are like a**holes" and "self-love is the greatest of all flatterers."
By Monday, Miley already seemed to regret her trigger-happy move and hid the style she was previously so proud of by pulling her plaid shirt over her head when spotted out in Philadelphia while visiting Hunger Games fiancé Liam Hemsworth.
The newly-engaged star's drastic new 'do comes in the wake of speculation that she has been cutting herself again and is hot on the heels of the dramatic weight loss that she has chronicled on Twitter with flesh-baring photos.
Article continues below advertisement
"Miley Cyrus' parade of unusual and provocative behavior recently reminds me of Britney Spears' downward spiral in the past," explained Meyers, referring to The X Factor judge's meltdown in 2007 when she suddenly shaved all her hair off.
"The apparent recent marks on her wrist, the drastic haircut, and an undeniably fledgling career suggest to me that Miley is overwhelmed with anxiety, feeling lost and uncertain about her future. Her loved ones should keep a close eye on her in case her impulsive behavior continues and gets worse, potentially putting her at risk of self-harm," he warned.
Wild child Miley got her headline-making haircut from Beverly Hills stylist Chris McMillan, who created Jennifer Aniston's iconic 'Rachel' cut in the 90s.
RELATED STORIES: