Exclusive
Miley Cyrus' Suspected Cutting Scars Is A Sign 'She Could Be In Emotional Trouble,' Says Psychologist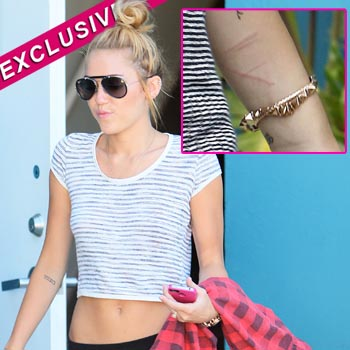 By Debbie Emery - RadarOnline.com Reporter
Disturbing photos showing worrying marks above her wrist have sparked concern that Miley Cyrus has been deliberately cutting herself, and now RadarOnline.com can exclusively reveal that it is a tell-tale sign that she could be in serious emotional trouble.
In the photos, taken July 12, Miley has four red marks on the inside of her left arm just above her wrist. However, when the teen sensation showed off her new tattoo earlier this week there were only three scars visible on her wrist.
Article continues below advertisement
"If Miley is self-cutting, it's a sign that she's in emotional trouble, dealing with feelings that are stronger than she can handle. It could also reflect an attempt to get attention from others," Los Angeles-based psychologist Dr. Seth Meyers, who has not treated the Hannah Montana star, told RadarOnline.com in an exclusive interview.
"The fact that Miley's career seems to have stalled may be partly responsible if she's resorting to self-injury," he added.
Dr. Meyers went on to explain that cutting is a behavior that is most often seen in teenage girls and young women, a dysfunctional attempt to cope with negative feelings.
"Self-cutters often cut themselves as an attempt to feel stimulated or wake themselves up emotionally because they feel empty or numb, or because they turn anger at others onto themselves instead, he told RadarOnline.com, adding: "Cutting is often seen in females who have Borderline Personality Disorder."
Article continues below advertisement
The 19-year-old former Disney star, who recently got engaged to Hunger Games hunk Liam Hemsworth, has been plagued by rumors of cutting and recently tried to squelch the story by posting a picture on Instagram where she was holding a razor to her arm in an apparent attempt to convince people that she does not cut herself.
As RadarOnline.com previously reported, Miley's brother Trace Cyrus sent a cryptic Tweet the same day his sister got engaged, saying, "Sending my love for girls who got somecuts at their wrists. I hope u find what you're looking for."
If the scars are self-inflicted like the evidence suggests, psychotherapist Jessica Aronson exclusively told RadarOnline.com that it might not be a new thing as cutting often starts in adolescence as a way to express emotions or feelings about traumatic events (such as a parents' divorce like Miley endured in 2010) that young adults cannot put into words.
"Painful life changes can trigger feelings that are overwhelming to a person without a healthy coping mechanisms and can result in cutting," Aronson explained.