Exclusive
Billy Ray Cyrus Hopes Miley Engagement Will Be A 'Very Long One!'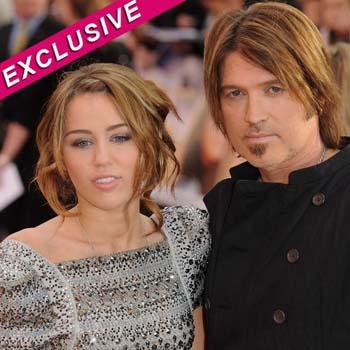 Article continues below advertisement
"They knew it was coming," a family source tells RadarOnline.com exclusively. "Liam lived with Miley and her parents when they began dating in 2009. Billy Ray and Tish love him like a son. However, Billy Ray is concerned about how young they are and he hopes that they aren't in a rush to get married. Billy Ray hopes the engagement will be very long, but he isn't opposed to the marriage at all. Billy Ray got divorced from his first wife Cindy though and he just doesn't want Miley to go through a similar heartbreak."
Miley took to Twiiter on Wednesday gushing: "thank you for all the love today :) I'm happy to share this news with you all. I feel like all my dreams are coming true. ❤ have a great day."
Papa Cyrus also congratulated Miley on Twiitter, writing: "All I ever hoped for as a Daddy was to see my kids reach their dreams. To find happiness...peace of mind ...and someday know... true love."
Hemsworth presented his future-to-be bride with a stunning 3.5 diamond ring from Neil Lane. The hunky actor worked with the renowned jeweler to design the ring and Liam proposed to Miley on May 31.
Article continues below advertisement
"Liam is part of the Cyrus family and he is very close with Miley's mom, Tish. It's a very special time for the family and it's certainly not easy for Billy Ray to realize that his oldest daughter is getting married. In Billy Ray's eyes she will always be his little girl," the insider says.
The Australian born actor will be very busy with work for the next year and a half. Hemsworth is currently filming Empire State with Emma Roberts and Dwayne "The Rock" Johnson, and has four other movies lined up, including the sequel to The Hunger Games.
Forget Your Pants, Miley? Cyrus Shows Off Her Skinny Legs In Tuxedo Jacket