Gone Tattoo Far: Miley Cyrus Gets Inked Again But Revisits Parlor After Design Mix-Up?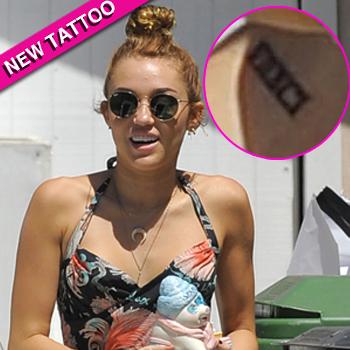 Has Miley Cyrus had some buyer's remorse on her new body art?
The 19-year-old left famed boxer Manny Pacquiao's tattoo parlor in Hollywood on Wednesday with a bandage over her arm where she had inked the roman numerals VIIXCI on her right inner elbow earlier this month.
Sources speculate the starlet has either added or made changes to the visibly placed body art which might have not had the meaning she was hoping for!
Article continues below advertisement
It is not known what significance the numbers have to Miley, as roman numerals VII would be 7 and XCI is 91 — but assembled close together they have no meaning.
Miley was born in 1992 and her boyfriend Liam Hemsworth came into the world in 1990, so 91 remains a mystery.
Miley already has "Just Breathe" on her ribcage, "Love" on her inner ear, a large dream catcher design on her ribcage, a heart on her right hand, a cross on her wedding finger, an Om symbol on her left wrist, karma symbols on her fingers, an equals sign on her finger in support of equality for gays, an eye on her finger, "Love Never Dies" on her left arm and a skull on her ankle.
She has previously said that she would never get a tattoo unless it meant something to her telling Harper's Bazaar, "It really doesn't hurt if you're thinking about the meaning.
"I could never get a meaningless tattoo, but I think that if you're doing something that's important, that's significant in your life, it takes some of the pain away."
Let's hope this tattoo means something to Miley!
RELATED STORIES: