Holey Hannah! Miley Cyrus Lets It All Hang Out In Revealing Shirt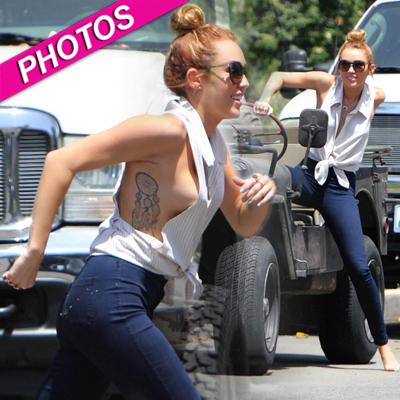 Proving once again that she simply can't be tamed, Miley Cyrus nearly had a wardrobe malfunction on the streets of Los Angeles Monday, and RadarOnline.com has the pics.
The 19-year former Hannah Montana star was photographed sprinting in a cut-out shirt that exposed her 'dreamcatcher' tattoo along her ribcage and left very little to the imagination.
As she ran in skinny jeans – and no shoes – Miley clutched the side of her shirt so she wouldn't reveal too much.
Article continues below advertisement
Miley's revealing outfit comes just one day after she turned heads at the 2012 Billboard Awards in Las Vegas wearing a oversized Jean Paul Gaultier white jacket – and no pants.
Meanwhile, in her ongoing mission to prove she's all grown up, Miley is opening up about what she calls the 'beauty' of sex.
During an interview on Lifetime's The Conversation with Amanda de Cadenet, Miley -- who's dating The Hunger Games stud Liam Hemsworth -- insisted there's no reason that sex should be a taboo subject.
Miley said: 'The girls that really base how much they're worth on the sexual favors they can do for somebody, that makes me really sad. Because sex is actually really beautiful.
She added: "It's the only way that we create and it's the only way that the world keep going. It's ignorant to not talk to your kids about it or make it seem like it's not as cool or magical as it actually is. If kids have a TV, they know what sex is. Everyone knows, so educate them."
Article continues below advertisement
"Let them know that they wouldn't be here without it, and it is a beautiful thing, and it is magic, and it is when you connect with somebody and it isn't how much your worth," Cyrus continued. "Your worth isn't based on that. Your worth is based on how you feel about yourself."
Cyrus also shared some advice for young girls hoping to build their self-esteem.
"Just be who you are, and that is where your style will come from, and your attitude, and your spirituality, and your sexuality," she said. "Because it's coming from a place of love."