Miley Cyrus Wrist Scars Prompt Cutter Concerns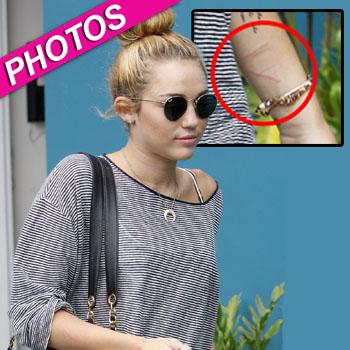 By Alexis Tereszcuk - Radar Entertainment Editor
Teen sensation Miley Cyrus has a series of scars near her left wrist that have led to speculation that she's a cutter and RadarOnline.com has the photos of her suspicious markings.
In these photos, taken July 12, Miley has four red marks on the inside of her left arm just above her wrist.
However, when Miley showed off her new tattoo earlier this week there were only three scars visible on her wrist.
Article continues below advertisement
Her brother Trace Cyrus sent a cryptic Tweet the same day his sister got engaged to hunky actor Liam Hemsworth, saying, "Sending my love for girls who got some cuts at their wrists. I hope u find what you're looking for."
The 19-year-old former Disney star has been plagued by rumors of cutting and recently tried to squelch the story by posting a picture on Instagram where she was holding a razor to her arm in an apparent attempt to convince people that she does not, in fact, cut herself.
Miley's not the only Disney darling to display suspicious arm cuts.
As RadarOnline.com previously reported, Demi Lovato was dogged by cutting rumors for years after she was photographed at several events with disturbing marks on her wrists.
She eventually confessed to a history of self mutilation, telling ABC News' Robin Roberts that she started cutting herself on her wrists when she was 11 years old as a way to deal with the emotional pain she was struggling with.
Article continues below advertisement