Demi Lovato Was A 'Cutter' Before Entering Rehab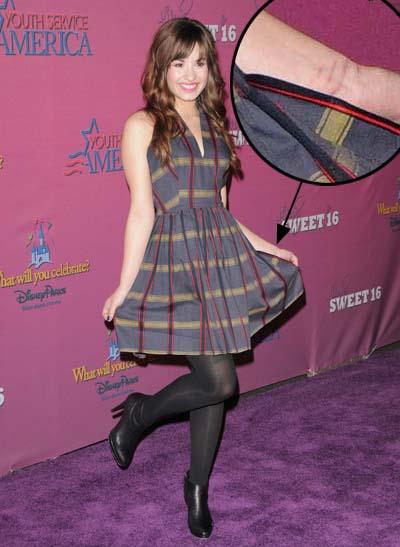 In wake of the shocking news that Disney darling Demi Lovato has entered rehab for what her rep describes as "emotional and physical issues", one reason for her entering treatment could be is that she's a "cutter" - a person who self-mutilates as a way of releasing inner pain.
Lovato, 18, has been dogged by "cutting" rumors for more than two years after she was photographed at several events with disturbing marks on her wrists.
Article continues below advertisement
One of the first time was in June, 2008, when a smiling Lovato was photographed with several deep cuts on her wrists - a cup of Starbucks in her hand.
On October 5, 2008, the Camp Rock star was photographed on the red carpet of Miley Cyrus' sweet 16 birthday party at Disneyland in Anaheim, California - again with several marks on her wrist.
As the whispers grew louder over the next year that something was indeed wrong, in December, 2008, her rep released a statement denying the rumors of self mutilation. The rep claimed that the scars were caused by bracelets.
"Demi was wearing gummy bracelets just prior to her appearance on the red carpet and, because of how tight they were, they left indentations on her wrist," her publicist Allison Leslie said. "These allegations are completely false."
However, a source close to Demi's family told PEOPLE: "She was bullied in school. She fought through eating disorders and has struggled with cutting. Demi is taking control by getting help."
Article continues below advertisement
On Monday, in announcing that Lovato was entering rehab, the singer's rep would only say that Lovato had entered treatment to deal with "emotional and physical issues she has dealt with for some time."
Her rep said, "Demi has decided to take personal responsibility for her actions and seek help.
"She is doing just that. Demi and her family ask that the media please respect their privacy during this difficult time. She regrets not being able to finish her tour, but is looking forward to getting back to work in the near future."
The rep didn't specify the nature of Lovato's problems, not indicate how long she would be in treatment.
As a result of entering rehab, Lovato has walked out on an international concert tour with the Jonas Brothers.
She had been scheduled to perform in Buenos Aires, Argentina, on Tuesday.
Lovato is not the only high-profile celebrity to suffer from self-mutilation. In July, 2010, Angelina Jolie opened up to Parade magazine about her tortured past.
Article continues below advertisement
The Salt star said: "I used to cut myself or jump out of airplanes, trying to find something new to push up against because sometimes everything else felt too easy. I was searching for something deeper, something more. I tried everything. I always felt caged, closed in, like I was punching at things that weren't there. I always had too much energy for the room I was in."
RELATED STORIES:
EXCLUSIVE: Demi Lovato Tells Why She Won't End Up Like Lindsay Lohan