Exclusive
Flesh-Flaunting Miley Cyrus Is Sending 'A Terribly Sick Message' To Young Women, Says Therapist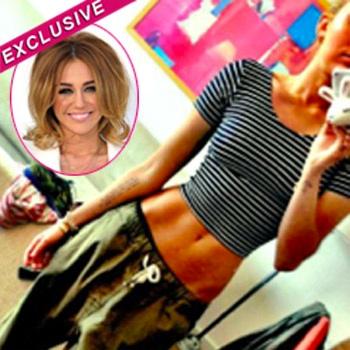 Article continues below advertisement
"What does she need the world to see -- which in eating disorder world, means know -- about herself?" Aronson asked.
"In addition to a terribly sick message she is sending to young women, she is herself struggling to avoid feelings with an exercise and dieting obsession that often leads to compulsive behavior and results in an eating disorder."
Earlier this week Miley posted another self-photo showing off her bare belly, with the caption: "wearing my lucky tee shirt :) off to make the dopest s*** everrrr studio ❤" in the shot, in which she's noticeably thinner and wearing a sheer, white, gypsy-style skirt.
"What she really needs to do is address the issues she does not want to feel and is she trying to control," explained the eating disorder expert.
The Disney star's flaunting of her diminishing weight is far from the only red light that suggests deep underlying issues. She appears obsessed with talking about what she eats, perhaps in an effort to prove she is not counting calories.
"up all night eatin chicken&waffles/makin beats," 19-year-old Miley tweeted on Thursday. Last month she complained about her incredible hunger, writing: "thinking about eating ziggys dog food I'm so hungry."
Article continues below advertisement
Attached at the (skinny) hip to fiancé Liam Hemsworth, Cyrus appears to be copying the extreme diet that he had to endure to emanate Gale in The Hunger Games.
"My character was spending most of his life in a state of hunger, and I wanted to get a sense of that, physically and mentally," the Australian actor told Men's Health when asked about the strict Paleo Diet and Navy SEAL training he followed to prep for the part.
The risk of a potential eating disorder for the Can't Be Tamed singer comes in light of photographic evidence that she has been cutting herself again.
"If Miley is self-cutting, it's a sign that she's in emotional trouble, dealing with feelings that are stronger than she can handle. It could also reflect an attempt to get attention from others," Los Angeles-based psychologist Dr. Seth Meyers, who has not treated Miley, told RadarOnline.com in an exclusive interview.