Holy Hannah! Miley Cyrus Chops Off Her Hair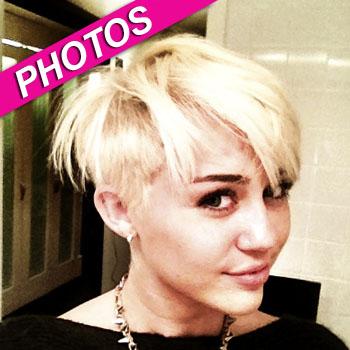 It's Miley Cyrus like you've never seen her before.
The Hannah Montana star showed off her new look -- a short, spiky blonde hairdo much different than the brunette mane we've gotten accustomed to seeing her with -- on Twitter late Sunday.
Miley got the drastic cut from her stylist, Chris McMillan. She wrote she "never felt more me in my whole life" adding "someone just told me im prettier than Miley Cyrus.
Article continues below advertisement
"I feel pretty ohhhh so pretty and gayyyy," she wrote, later declaring she was "feeling so happy in my skin" before imparting a pearl of clichéd wisdom her achy breaky father once shared with her: "my dad @billyraycyrus used to tell me 'opinions are are like a** holes every body has one' LOVE my hair ❤ feel so happy, pretty, and free."
The 19-year-old wild child is currently engaged to Australian actor Liam Hemsworth, who popped the question May 31 with a 3.5-carat diamond ring from Neil Lane. The booty-baring star met her Aussie beau, 22, when he was her co-star in 2009's The Last Song.