Miley Cyrus Wants 'Long Engagement' And 'Doesn't Really Care About Wedding'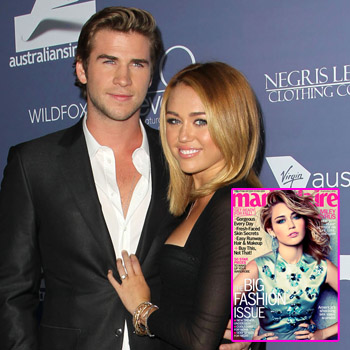 Article continues below advertisement
"Life is too short not to be with the person you want to be with," the super skinny starlet explains.
And not only is the actual ceremony not a big deal to Miley, but it probably won't happen anytime soon.
"I don't really care about the wedding or the piece of paper as much as I do the promise we've made to each other. And we want to have a long engagement."
She also reveals that the proposal, which took place at her Los Angeles home, was a "complete surprise" and that Hemsworth didn't consult her Achy Breaky Heart father, Billy Ray Cyrus, or her mother, Tish, before popping the question.
"I had no input," she admits about the gorgeous Neil Lane sparkler that Hemsworth presented her with. "We'd been kind of talking about getting engaged…I saw it online at one point and thought it was really pretty…I just love that it's old and has a story. And I'm happy because it doesn't look like anything else I wear."
To read more about Miley, pick up the September 2012 issue of Marie Claire, on newsstands August 14.