Exclusive
Chris Brown's Twitter Account's Angry Tweets To Critics, 'Hate All U Want Becuz I Got A Grammy Now!'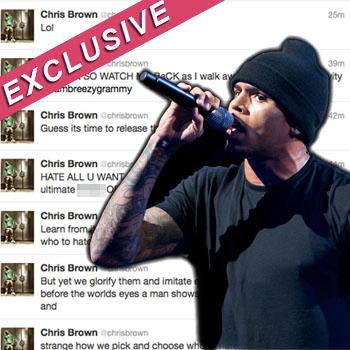 Article continues below advertisement
"HATE ALL U WANT BECUZ I GOT A GRAMMY Now! That's the ultimate F**K OFF!" The tweets from Brown's account said at the height of the rampage.
Earlier in the rant came: "Strange how we pick and choose who to hate! Let me ask u this. Our society is full of rappers (which I listen to) who have sold drugs (poisoning).
"But yet we glorify them and imitate everything they do. Then right before the worlds eyes a man shows how he can make a Big mistake and learn from it, but still has to deal with day to day hatred! You guys love to hate!!! But guess what???"
The tweets from Brown's account were responding to a number of prior tweets from celebrities who didn't believe he deserved to not only win a Grammy for F.A.M.E., but also to perform twice during the show.
It was only three years ago that Brown was arrested and charged with felony battery on Rihanna, the night before the 2009 Grammy Awards, and while the Umbrella singer didn't object to him being there this year, many others did.
Article continues below advertisement
Country singer Miranda Lambert tweeted: " I don't get it. He beat on a girl...," adding, "Not cool that we act like that didn't happen."
While Michelle Branch wrote: "Trying not to go off on a rant but...Chris Brown...*bites tongue* have we forgiven him?"
The Twitter comeback, which has since been removed from Brown's page, concluded with this promise.
"Guess its time to release the video SOON!!!! Lol