2012 Grammy Awards: Adele Goes 6-For-6, Stars Pay Homage To Whitney Houston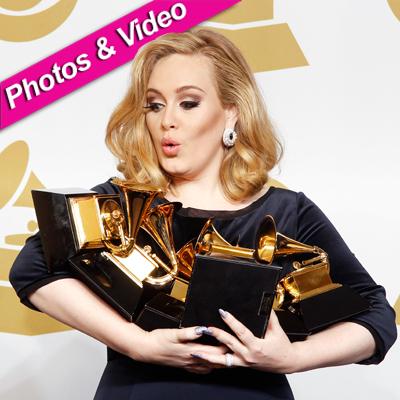 Adele cleaned up, sweeping the six categories she was nominated in, during Sunday's 54th annual Grammy Awards from the Staples Center in Los Angeles, as the music world still reeled in the wake of Whitney Houston's shocking death at 48 a day before.
The 23-year-old British soul singer went 6-for-6 in the categories she was nominated in, including album of the year, record of the year, and song of the year for her second album, 21. With the six wins, Adele tied Beyoncé for the most ever by a female act in a single year.
Article continues below advertisement
"This record is inspired by something that is really normal and everyone's been through it ... just a rubbish relationship," said Adele, who made her return to the stage after undergoing vocal cord surgery last November. "It's gone on to do things that I can't tell you how I feel about them.
"It's been the most life-changing year."
2012 Grammy Awards: Full list of winners
Elsewhere, big winners on the night included The Foo Fighters with five Grammys, and an absentee Kanye West with four.
The ceremony was underscored by Houston's death, highlighted by Jennifer Hudson's defining moment in singing Houston's biggest hit, her ballad from 1992's The Bodyguard, I Will Always Love You.
Hudson reportedly wept as she rehearsed, as she and Houston were close. (In 2009, Houston presented Hudson with the Grammy for Best R&B Album.)
Other stars who paid tribute to the late music legend included Bruno Mars, Alicia Keys, Rihanna, Stevie Wonder and host LL Cool, who left his classy fingerprint on the night in honoring his colleague.
Article continues below advertisement
"This night is about something truly universal and healing," he said. "This night is about music."
While former Grammy darlings Lady Gaga and Katy Perry went home empty-handed, the resurgent Chris Brown took home his first Grammy for Best R&B Album for F.A.M.E.; and Taylor Swift continued her award show domination with two wins for Best Country Song and Best Country Solo Performance for Mean.
Other highlights included performances from the Beach Boys with Adam Levine and Foster the People; and Country legend Glen Campbell, who was diagnosed last year with Alzheimer's disease, singing his signature tune, Rhinestone Cowboy. The show also included tributes to other stars who recently died such as Etta James and Soul Train creator Don Cornelius.