Whitney Houston's Daughter Snorting Cocaine -- Caught On Camera!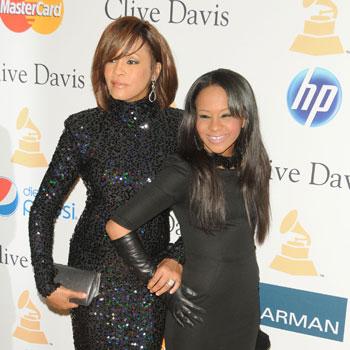 Like mother, like daughter!
Whitney Houston's daughter Bobbi Kristina Brown snorted lines of cocaine at a party recently and it was all caught on camera, RadarOnline.com has learned.
The 18-year-old teenage daughter of Whitney and rapper Bobby Brown is on a partying path of destruction; smoking marijuana, chugging beer and getting drunk on bottles of Everclear, a 151 proof grain alcohol, according to the National Enquirer.
Article continues below advertisement
"Krissi is addicted to cocaine. I've tried to stop her, but all she said was, 'I'm just like my mother!'" an ex-boyfriend of the troubled teen told the magazine.
"Krissi has grown up seeing both her parents high on a regular basis."
The March 14 issue splashed eight photos of Bobbi Kristina – Krissi, as her friends call her – across a two-page spread where she's clearly seen taking lines of cocaine up her nose off a plate at an Atlanta-area house party.
"Krissi was pretty wired. I also saw her kiss a man and drink a 40-ounce bottle of Budweiser," her former boyfriend said.
"Whitney needs to see what her daughter is doing to herself. If Krissi doesn't stop soon, this addiction to cocaine will kill her!"
As RadarOnline.com previously reported, while positioning herself for a comeback, Whitney went on the Oprah Winfrey Show in 2009 where she revealed some of the lowest and most painful points in her life.
MORE ON:
National Enquirer
Article continues below advertisement
It was during those times that she was smoking crack on a regular basis and her marriage to Bobby was crumbling, that RadarOnline.com obtained disturbing exclusive photos of the singer's bathroom, also known as her drug den.
In 2008 Bobbi Kristina was admitted to a psychiatric ward after she tried to stab her mother during an argument before turning the blade on herself and trying to slit her wrists.
According to Bobbi Kristina's ex-boyfriend of more than two years, her parents have enabled her to live the unhealthy party lifestyle that she is.
"It was difficult to stop her Bobbi Kristina from buying alcohol and drugs because her mother gave her $1,000 a week. I saw Krissi do an eight ball – an eighth of an ounce – of cocaine in just two days with friends," he said.
"One time Whitney bought a case of beer for Krissi and her friends to drink in front of her. I couldn't believe it!"