Exclusive
Rihanna Doesn't Object To Chris Brown Attending Grammys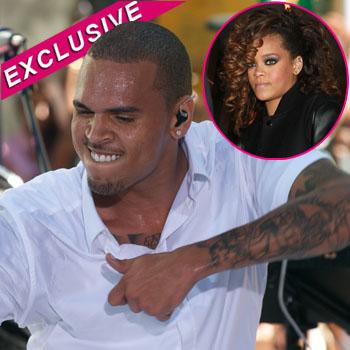 By Jen Heger - Radar Legal Editor
Rihanna doesn't object to her ex-boyfriend, Chris Brown, attending the Grammys in Los Angeles on February 12, 2012, RadarOnline.com is exclusively reporting.
As RadarOnline.com previously reported, Chris is anticipating going to the Grammys and possibly even performing. Brown is nominated for three Grammys: Best R & B Album, Best Rap Performance, and Best Rap Song.
It was only three years ago that Brown was arrested and charged with felony battery on Rihanna, the night before the 2009 Grammy Awards.
Article continues below advertisement
"Rihanna is also nominated for several Grammys, and she performed at the Grammy nomination concert recently, and she could be going to the awards ceremony as well," a source close to the situation tells RadarOnline.com. "Rihanna thinks that Chris should attend the Grammys if he wants to, she has absolutely no qualms with him being there. Don't expect them to hang out, but she has moved on from that horrible night, and doesn't want it to define either one of them as people."
Rihanna had nothing but praise for Brown in an interview she did with Esquire Magazine in October: "It's incredible to see how he pulled out the way he did," she said. "Even when the world seemed like it was against him, you know? I really like the music he's putting out. I'm a fan of his stuff. I've always been a fan. I would never wish anything horrible for him. Never. I never have."
Media reports stated that Brown had been banned from the Grammys, however, multiple sources tell RadarOnline.com that simply is false. "Chris was nominated for three Grammys last year, he didn't go because of scheduling conflicts. Chris was never banned from going to the Grammys," our source says. "Was he welcome with open arms in the past? No, but he was never banned. Chris wouldn't have even been nominated if such a ban existed. Producers of the Grammys recognize the hard work that Chris has done in fulfilling his legal obligations stemming from the incident. Chris is amazingly talented, and he is honored that his work has been nominated. And, let's face it, Chris isn't the first, nor will he be the last, rapper or R & B star to be involved in an incident like this."
Article continues below advertisement
A Los Angeles judge eased the restraining order that had been in place since Brown pleaded no contest to the battery charge. This was done to avoid any legal issues if the two were to be at an awards ceremony or other work related event, and it was Rihanna who requested that the restraining order be modified.
"Chris has grown tremendously as a person, and an artist from that time in his life," the insider tells RadarOnline.com. "Chris has complied with all terms of his probation and has completed most of his court ordered community service. He has been a model probationer, but more importantly, Chris accepted responsibility for what he did. Chris took that experience and vowed to learn from it and become a better person, and he was thrilled and truly humbled that he was nominated for three Grammys."