Exclusive
Chris Brown & Rihanna Secret Hook-Ups Won't Lead To Getting Back Together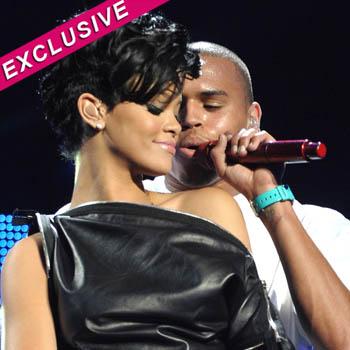 Article continues below advertisement
Surf's Up For Super-Sexy Rihanna
"They have probably hooked up no more than half a dozen times in the past year. It's very unlikely that Rihanna and Chris would ever get back together though," a source close to the situation tells RadarOnline.com. "Rihanna doesn't care if she were to get public backlash if they were to reconcile, she is the one calling the shots now, which she likes. Rihanna knows that if they were to get back together, she wouldn't be able to maintain that strong role, and Chris would lose interest. They are both very young, and Rihanna would never be able to trust Chris because he has problems staying faithful."
As , Chris is anticipating going to the Grammys and possibly even performing. Brown is nominated for three Grammys: Best R & B Album, Best Rap Performance, and Best Rap Song. Rihanna announced on Twitter yesterday that she would be performing with Coldplay at the awards show in February.
Media reports have circulated that Brown has a new girlfriend, Karreuche Tran, a model that Brown took to Las Vegas on New Year's Eve. Our sources tell RadarOnline.com: "Karreuche wishes she was Chris' girlfriend! Chris doesn't have a girlfriend right now, period. There are many women that he spends time with and she is one of them, it's not an exclusive relationship though.
Article continues below advertisement
"Chris' mom, Joyce Hawkins is VERY leery of Karreuche, and she doesn't like her and questions her motivations and sincerity. Complicating matters for Chris is that Joyce LOVES Rihanna, and she often calls her the daughter she never had but always wanted. Joyce would love for Chris and Rihanna to continue to spend time together, and maybe down the line, get back together."
RELATED STORIES:
Hawaiian Hottie! Rihanna's Sizzling Sexy In Silver On The Islands